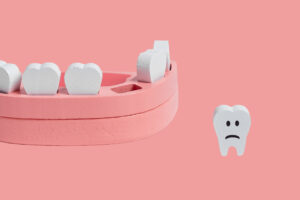 Dental emergencies can happen, and one of the best things that you can do to be prepared is to know your steps for when they do occur. Even if you don't ever experience a dental emergency, you want to know how to handle them in case you are ever around someone who does. This situation can be quite scary, but knowing how to manage these instances can give you the tools that you need to make the right decisions.
At our emergency dental office in Prairie Village, KS, we see these situations all the time, so we know the advantages of handling them quickly. Time is of the essence when you lose a tooth, so learn some helpful tricks in gathering and transporting your missing dental material. Always remember that if you have any questions about the severity of your injuries, the emergency room is your best bet. But after you determine that you are safe, talk to an emergency dentist about your next steps when you lose a tooth!
Take A Moment To Gather Yourself After You Lose A Tooth Due To Injury
When you lose a tooth, there is a moment when it seems like the world stops spinning. Once you realize what has happened, you might experience panic. If at all possible, try to remain as calm as you can during this period, as it can help you to make the right decisions in the following minutes.
At this point, it is important to remember that if your injuries appear to be severe or life-threatening, the safest place for you to be is at the emergency room. These healthcare providers have access to life-saving methods and materials to ensure that your overall health needs are cared for. Once you have decided that you are safe, it is time for your next steps.
Pick Up The Pieces Of Your Broken Smile And Take Them To The Emergency Dentist
Your next move is to try and safely gather as much of your missing tissue as you possibly can. This is where your ability to stay calm can help, as it can be difficult to do this when you are panicking.
If you have fully dislodged a tooth, rinse it off and see if it fits back into the socket. If it does, then you can try to keep it there by biting down on gauze or clean cloth. With broken teeth, be sure to never carry them in regular water, but in milk or saltwater. Then make your way safely to the emergency dentist!
Learn More About Emergency Dentistry From Dr. Browne
Want to find out more about your next steps after losing or breaking a tooth due to injury? Give us a call at our Prairie Village, KS dentist's office at 913-901-8585 today!