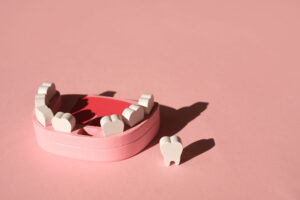 Losing or breaking one of your natural teeth due to physical trauma is never fun. You do, however, have the opportunity to make it a little easier on yourself by learning how to handle this situation. These instances can be pretty scary, but you have the opportunity to take a little bit of the stress away by understanding your next moves after you break or lose a tooth.
With our team of emergency dental experts here in Prairie Village, KS, you can renew your smile after injury. Follow these simple steps to understand how to handle your dental emergency and give yourself the opportunity for repair. Sometimes, we can even use your own natural material in your restoration, but that depends on you making the right choices in transporting and keeping your dislodged tissue safe. Talk to our team today about your situation, and we can help you to know your next moves!
Stay Calm After You Experience A Broken Or Dislodged Tooth
Let's get this out of the way first: if you have any questions about whether your dental emergency could seriously affect your overall health, head directly to an emergency room. Assessing the situation first and foremost is the most important thing, and when your health is concerned, it takes precedence over any other issue. The emergency room has access to forms of care that other places do not, including blood transfusions. These places also often work alongside emergency dentists, so if you have even the slightest concern over your wellbeing, it is time to go to the ER.
After you have determined that your situation does not warrant an emergency room visit, try to remain calm. While we know that this is a tall ask in these times, it can help you to make the right decisions.
Gather As Much Missing Material As You Can And Head To The Dentist
Your next step is to try to collect as much of your missing tissue as you can. In certain instances, this can be used to repair your smile, but you need to gather it and safely transport it for this to become a possibility.
Never use tap water to hold broken or dislodged tooth tissue. This can make repair more difficult, so instead, use a cup of milk or if necessary, saltwater. If you have fully knocked out one of your teeth, rinse it off and see if it will fit back into the socket. If so, hold it there using gauze or another clean cloth and make your way to the emergency dentist as quickly as you safely can.
Learn More About Emergency Dentistry With Dr. Browne, DDS
If you have suffered an injury to your smile, reach out to our team to learn about your next steps. For more information or to schedule an appointment, give us a call at our Prairie Village, KS dentist's office at 913-901-8585.