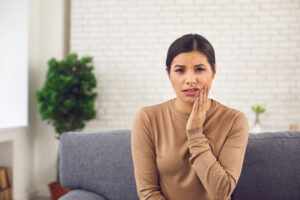 Dental emergencies can happen when you least expect them, but knowing who to contact ahead of time can help relieve the anxiety of this stressful situation. If you wake up with a sudden toothache that will not go away on its own, do not delay in calling our office. This common symptom may indicate an infection that left alone, could spread to other parts of the body through your bloodstream. Infections result when a break in your tooth's enamel allows oral bacteria to gather inside the tooth's pulp chamber. As the body's inflammatory response begins, tissues swell and press against sensitive dental nerves, signaling to the brain that not all is well. By taking an X-ray of your mouth, we can determine if foreign material is present and proceed to perform a root canal treatment.
At your Prarie Village, KS, dental practice, we are standing by to help you in your time of need. While you may not expect your infection, you can rely on us to help you regain your comfort. Because a root canal permanently alters the structure of your tooth, we also design and place powerful crowns that restore the tooth's surface completely above the gumline.
How Infections Take Hold Of Your Tooth
When a tooth is healthy, its outer layer takes hundreds of pounds of force from your bite. Its enamel is the hardest substance in the entire human body. But when the enamel breaks, more sensitive layers are exposed to the possibility of decay and infection. This is why you should report any injury to your tooth that leaves a permanent physical mark. While chips and scrapes may seem superficial, we can let you know if the enamel layer breaches and requires repair. A bonding procedure or dental crown can return the seal that keeps oral bacteria from entering your tooth's chamber. Otherwise, you become at risk.
Performing Your Root Canal Treatment
When we suspect a tooth infection, we will take imaging of the inside of your tooth to detect any foreign substance. To treat your infection, we perform a root canal procedure that cleans all decaying material out of your tooth's pulp chamber. Local anesthetic allows us to treat your tooth with little to no pain. When the infection is gone, your body's inflammatory process subsides, relieving you of pain and providing comfort to your bite.
Call Us Right Away When You Suspect A Tooth Infection
For more information on how we can remove your tooth infection and help resolve your pain, please contact your Prairie Village, KS, dentist's office at (913) 901-8585. Our office is located on the southwest corner of 75th and State Line at the Crossroads of Prairie Village, Waldo, Brookside, Mission Hills, Leawood, and Overland Park.