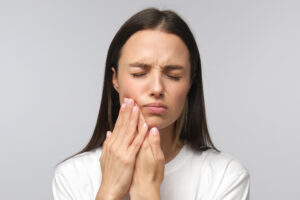 If you wake up with a sudden pain in one of your teeth, seeking treatment is important to preserve your smile's health. While emergencies can strike at any moment, we understand you cannot wait until your next appointment to examine your tooth. By scheduling an immediate visit, we can uncover the source of your pain and provide a valuable treatment. Toothaches that will not resolve after a day are often the symptoms of dangerous infections. Left alone, bacteria deposits risk entering your bloodstream and spreading to other parts of your body. If we detect an infection at your exam, we can provide root canal therapy that removes all foreign material from your tooth's inner chamber and restores your health.
At your Prairie Village, KS dental practice, we are standing by to help when you need it most. We can take advanced imaging of the inside of your tooth to determine if you have an infection. Because root canal therapy permanently alters the outer structure of your tooth, we can plan a restorative procedure to return strength to your bite afterward. This generally involves placing a sturdy crown designed to replicate the entirety of a healthy tooth above your gum line.
A Surface Break In One Of Your Teeth
We also recommend scheduling an emergency appointment whenever you physically injure one of your teeth. While chips and scrapes may seem superficial or simply cosmetic, any event that breaks the protective seal of your tooth's enamel layer can lead to infection. By coming in right away, we can repair the tooth with a composite resin bonding procedure and reseal it against foreign infection. If instead, you ignore this event, you experience a higher risk of developing tooth decay and other issues as the years go on.
Treating Your Toothache
When you visit for your tooth infection, we will help remove the source of your pain. An infection signals the body's inflammatory processes to flood the inner chamber, leading to a swelling of tissues that press against your sensitive dental nerves. By removing foreign material, the swelling goes down, as does your pain. After repairing the outer seal of your tooth, you can enjoy a pain-free bite once again. At future checkups, we will inspect the health of your tooth to see that the crown is holding strong.
Let Us Know Whenever You Experience A Dental Emergency
While you cannot control when dental emergencies happen, you can seek help right away. For more information on how we can remove infection and help resolve your pain, please contact your Prairie Village, KS, dentist's office at (913) 901-8585. Our office is located on the southwest corner of 75th and State Line at the Crossroads of Prairie Village, Waldo, Brookside, Mission Hills, Leawood, and Overland Park.