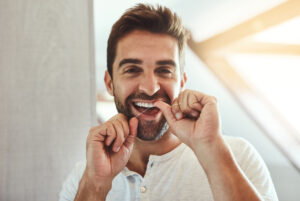 If you have injured one or more of your natural teeth, take the time to talk with a talented team of dental professionals as quickly as you safely can. For this reason, it is helpful to have the phone number of a quality emergency dentist saved in your phone. This way, you can always have that to rely upon when you need it, as you can never be too sure of your smile.
With our team of oral health experts in Prairie Village, KS, you can have a trusted emergency dentist when you need to find speedy repair after damaging your dentistry. But in addition to having the support you need when you need it, you should also learn some helpful tips and tools to guide you through the steps after you or a nearby person has broken a tooth or lost one outright. Learn how to handle a dental emergency and above all, do not wait to seek treatment from your emergency dentist!
When You Lose Or Break A Tooth, You Want To Know Your Next Moves
When you study first aid, it helps you to stay calm during times of panic, and it also gives you the knowledge to understand what is happening and how to respond. A dental emergency can be a real scare for those who do not know what to do, so you want to have the tools that you need when things become scary.
Your first step is to assess the situation and determine if you need to go to your local emergency room. While your teeth are certainly important, ensuring the safety of the involved person is key, and the emergency room has specific tools available to them.
Make Your Way Safely To A Trusted Emergency Dentist After You Break Or Lose A Tooth
After you have determined that the situation does not require the help of an emergency room physician, try to stop people from moving around. At this point, you will want to gather any pieces of broken tooth and tissue from the areas and keep it safe until you reach your emergency dentist.
Wrap these bits in clean fabric such as gauze or a clean t-shirt if medical supplies are unavailable. If you have fully dislodged a tooth, rinse it off and place it back into the socket, holding it in place until you reach your provider. It is important to never transport tissue in regular tap water, and instead, use saltwater or milk!
Learn More About Emergency Dentistry With Dr. Browne In Prairie Village, KS
When your dentistry becomes urgent, talk to our team about your options in repair. For more information or if you have recently injured your smile, talk to Dr. Browne, DDS, Prairie Village, KS dentist's office at 913-901-8585