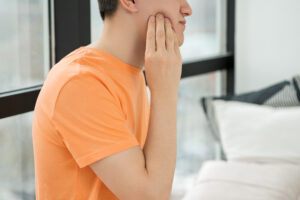 You should never ignore a constant pain in one of your teeth that will not go away on its own. This is a common symptom of a bacterial infection that risks spreading beyond your tooth and entering other parts of your body. While other problems with your oral health can be treated at a general checkup, serious pain indicates the need for a rapid response. When a cavity or physical injury exposes the insides of your tooth to oral bacteria, you require professional care to help you relieve your pain and save your tooth.
At your Prairie Village, KS dental practice, we understand that dental emergencies can happen at any time. This is why we provide emergency response services to treat your tooth infection and provide desirable relief. We will inspect your tooth to determine the source of your pain and let you know if a root canal therapy is appropriate to provide treatment.
When Dental Pain Results From An Infection
A constant pain in one of your teeth is often the result of oral bacteria entering the pulp. This means your protective enamel layer has been compromised by a cavity or physical break on the tooth's surface. Your body's inflammatory response to fight the infection causes tissues to swell that then push up against your nerves. To resolve this pain, you should promptly contact your dentist to evaluate its cause and provide immediate treatment.
A Root Canal Can Remove The Source Of Your Pain
When you call our office for emergency treatment, we will schedule you right away to offer our care. After inspecting your problem tooth, we will let you know if a root canal can remove your infection and relieve your pain. We begin by applying a local anesthetic to the tooth and surrounding oral tissues to ease discomfort. Using special tools, we then access the insides of your tooth to scrape decaying material and clean until the infection is gone. To prevent reinfection while you heal, we apply a temporary seal until a more permanent restoration can be placed.
Returning Your Tooth's Strength With A Dental Crown
Because a root canal alters the outer structure of your tooth, a dental crown can more permanently seal its insides from future infection. We can design your restoration to match the shade and shape of a natural tooth to sit comfortably among the rest of your teeth.
Contact Your Prairie Village, KS Dentist To Treat Your Tooth Infection Emergency
If you have tooth pain that will not resolve, let us know right away. We can perform a root canal to remove your infection and plan a restoration for your tooth. For additional information on what to do when you have a dental emergency, please contact your Prairie Village, KS, dentist's office at 913-901-8585. Our office is located on the southwest corner of 75th and State Line at the Crossroads of Prairie Village, Waldo, Brookside, Mission Hills, Leawood, and Overland Park.