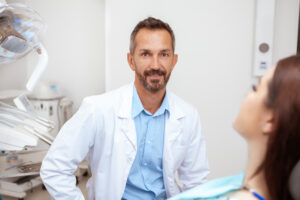 One of the unfortunate truths about tooth problems is that they worsen over time. If an issue with a cavity or injury is not treated, the condition of your tooth can keep deteriorating, which can lead to difficulties with an infection that can become difficult for you to ignore. At our Prairie Village, KS dentist's office, we can help when you have a problem with a tooth that has become infected. Because you can schedule urgent oral health care at our office, you can have the matter evaluated before it grows more severe, which means that you can avoid complications like the spread of bacteria and the loss of your tooth!
A Tooth Infection Can Require Timely Attention
People often prevent problems with tooth infections, as timely restorative dental work provided during a routine dental appointment or urgent treatment can tend to issues with enamel damage before one can form. Unfortunately, this is not always the case. You may not know when a cavity forms, as you can fail to feel discomfort. However, as it worsens and bacteria make their way through your enamel, you can eventually feel the discomfort when those harmful microbes enter the center of your tooth and create problems for you. A physical injury that is not treated can lead to issues, too, as damaged enamel can create openings for bacteria to enter and create new troubles.
Restoring Your Tooth's Health And Appearance During An Emergency Appointment
If you start to feel severe pain, or your tooth continues to hurt, you can reach out to arrange a timely emergency dental procedure. During your emergency visit, we will evaluate you and determine if there are signs of an infection. If so, the treatment will call for root canal therapy. This is a service that allows us to safely access the tooth's central chamber and take care of damaged tissues and bacteria within. Clearing away the infection in this space can stop further discomfort from affecting you, and it can ensure that bacteria will not pass through your roots and create new health concerns. Once this work is done, the tooth will need lasting protection, which can be provided through the placement of a dental crown. A custom crown can be made from one of many different substances. Materials are available to create crowns that imitate your tooth structure, so you will not have to worry about your appearance if one of your front teeth must be restored.
Count On Your Prairie Village, KS Dentist To Treat Your Infected Tooth!
Through timely care for an infected tooth, we can preserve your smile and prevent complications from the spread of bacteria. If you think that you may have an infection to address, or if any other problem seems to make treatment a priority, please reach out to our Prairie Village, KS dentist's office at 913-901-8585.