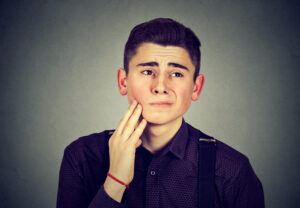 If you have a serious problem with dental pain, waiting patiently for an appointment can be difficult. Unfortunately, a delay can be more than just uncomfortable, as the cause of your trouble can cause more complications while you wait to be seen and further affect your oral health! Our Prairie Village, KS dentist's office is able to help patients who need to see us on short notice. By making emergency dental services available, we make it easier for you to ensure that your oral health troubles are addressed before there are complications. Beyond just limiting the time you spend in discomfort, we can reduce your risk for difficulties that raise your risk for tooth loss or the spread of an infection.
Dental Discomfort Can Be An Understandable Cause For Concern
A concentrated ache in your tooth, or significant changes in its sensitivity, can have you understandably worried. These issues can also make it harder for you to focus on your daily life and comfortably bite and chew food. Worrying about your aching tooth can make it hard to put off treatment. Unfortunately, delays that do stop you from seeing your dentist can give the source of your trouble time to grow more serious. If you have an infection within the tooth, it can continue to spread, which can make an extraction necessary and even put you at risk for new health problems!
Arranging Emergency Dental Care To Resolve Problems With Pain
Because our patients have access to emergency dental services, we can see to it that they undergo the appropriate restorative treatment for dental pain in time to prevent complications. A review with Dr. Browne can reveal just how serious your issue is. When appropriate, we can provide root canal therapy to respond to problems within the tooth structure. After doing this and sealing the pulp, we can protect your tooth by capping it with a dental crown. A crown that matches your tooth structure can offer the bite support that you need while also providing the preservation of your smile.
What Emergency Care Offers When Your Tooth Cannot Be Saved
If your dental troubles are so severe that you cannot preserve your full smile, there are still benefits to prioritizing treatment. A timely tooth extraction protects you against complications from leaving an infected tooth untreated. This also lets you start plans to have your smile fully restored through prosthetic treatment, which can benefit your bite function as well as your appearance.
Talk To Your Prairie Village, KS Dentist About Treatment For Dental Pain
Responding to dental pain by setting up an emergency appointment can both shorten the time you spend in discomfort and lower your risk for serious oral health complications. Our practice is here to help when services need to be provided in a prompt fashion. If you would like to learn more about our emergency services, reach out to our Prairie Village, KS dentist's office at 913-901-8585.