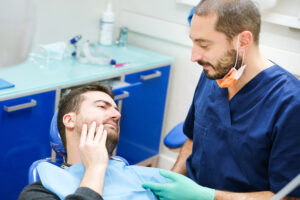 If you start to feel pain in a tooth, you can be understandably worried. If the problem is severe enough to interfere with your bite function and plans for the day, you can be concerned enough to seek the next available dental visit. Fortunately, this is something made easier by your access to emergency dental work at our Prairie Village, KS dentist's office. We are prepared to help patients who find themselves in need of treatment as soon as possible. Taking advantage of this access can do more than just help you resolve problems with pain. It can also ensure that you receive treatment in time to prevent further complications that threaten your smile and overall health!
A Serious, Unexplained Tooth Pain Can Point To An Infection
The initial onset of pain in a tooth can be upsetting, and it can make you question whether something is wrong that will require professional treatment. There are times when temporary discomfort can associate something unrelated to your oral health, like a sinus infection. However, when pain does not subside, or when the discomfort you feel is serious, it can point to trouble with your dental well-being that requires treatment. The good news is that when you think the issue might be serious, you can seek out care from your dentist on short notice, as our practice does offer emergency oral health appointments.
Using Your Access To Emergency Dentistry To Address Worries Over Pain
Worrying pain, problems with dental injuries, and issues with restorations or teeth that are not secure can be addressed during an emergency appointment. The benefit to this is that you can have problems both evaluated and treated before you become susceptible to complications. A review upon your arrival can tell us just how serious an issue might be. If your problem is with pain or heightened sensitivity, it may mean that you need to have a root canal performed to address problems within the tooth structure.
Am I At Risk For Losing My Tooth?
For a serious injury, or in a situation where your tooth is no longer secure, you can be understandably worried about a permanent loss marring your smile. Trouble of this nature can be alarming, but emergency oral health services can make these losses less likely. In the event that there is not a way to save the tooth, we do offer prosthetic dental work that can address concerns about your appearance and health.
Talk To Your Prairie Village, KS Dentist About Prompt Treatment For Tooth Pain!
Because you can schedule an emergency oral health procedure in response to tooth pain, you can have the cause of your discomfort evaluated and treated before there are new complications. Our office is here to provide both routine services and care when there are active oral health issues, and we provide cosmetic dentistry as well! For more information on what we can do for you, reach out to our Prairie Village, KS dentist's office at 913-901-8585.