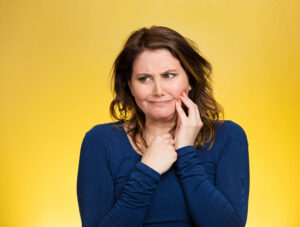 If you try to hold off on a dental appointment despite worrying tooth pain, you can unknowingly leave yourself open to serious oral health issues. That discomfort you feel could be your warning that your tooth is infected, and that can lead to the spread of bacteria through its roots to create issues elsewhere. In addition to experiencing this trouble, delayed treatment for an infection can make you more likely to need an extraction in order to restore your oral health. Your Prairie Village, KS dentist's office is prepared to help you deal with ongoing pain or sensitivity troubles. In fact, we can even make care easier to access by welcoming patients for emergency dental services!
Are You Currently Dealing With A Severe Or Persistent Tooth Pain?
If you have a problem with pain that will not subside, or if you are worried by severe dental discomfort, you should take the matter seriously. Pain and sensitivity are often the warning signs of an infection, which can develop when a tooth is injured or suffering from a severe cavity. Waiting to deal with the problem can lead to the problem growing more serious. What can complications involve? As bacteria pass through your roots, they can cause problems beyond your tooth. Your dentist can also find that the issues with your tooth have become so serious that there is not a way to save it, which means you will have to have an extraction performed.
We Can Bring You In For Treatment On Short Notice
Because you can schedule emergency dental work at our practice, you can stop a problem before there are further issues to worry about. We can bring you in on short notice if you have issues with serious discomfort. When you arrive, Dr. Browne will closely study your tooth to find what kind of care you require. When caught in time, a severe cavity or injury can be addressed through root canal treatment, which makes it possible for us to save the tooth and restore it.
Preserving Your Smile Through Restorative Treatment
Addressing an infection through root canal treatment will stop you from experiencing tooth loss. However, it is not all that needs to occur to fully restore your oral health. After your procedure, you will need to have a dental crown put in place. A custom crown can be made to both fit your tooth securely and preserve your appearance by matching the appearance of your healthy enamel.
Talk To Your Prairie Village, KS Dentist About Treating Your Tooth Pain
Through prompt care for tooth pain, we can make sure a potentially serious issue with your oral health is resolved in time! To find out more about how we can take care of you when a problem occurs, please call our Prairie Village, KS office at 913-901-8585.