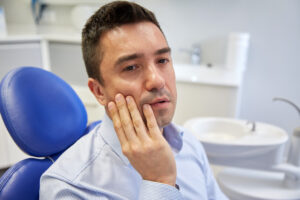 When the right actions are taken, a potentially serious problem with a dental injury becomes easier to manage. In addition to making pain easier to deal with, the right support can help you prevent complications, even when it appears that you are at risk for losing your tooth! One thing to remember is that a potentially serious injury should be addressed as soon as possible. Because our Prairie Village, KS dentist provides emergency oral health care when it is required, we can see to it that the right care is provided before there are complications that create new issues for your well-being.
Be Careful About Handling A Broken, Loosened, Or Lost Tooth
If a tooth has been partly broken, if it is loose, or if it is already knocked out of socket, be careful about how you handle it. A partial or full tooth can be carried in a container of milk. If necessary, use warm water to gently remove dirt, but leave any organic tissues on the tooth. For a tooth that is completely dislodged, be careful to handle it by its crown (the portion that appears above your gums) and not its roots. In the event that your tooth is only loosened, you can try to guide it back into place with your tongue, but only apply gentle pressure, as too much force can loosen it further and even cause it to be lost.
Take Care To Book Dental Work As Soon As Possible
For any kind of injury that affects your tooth structure, make emergency oral health care a priority. The sooner you can have restorative dental work performed, the sooner you regain your appearance and bite health. With the right services, we can see to it that a tooth's well-being is restored. That may call for a root canal to address internal problems, and it can involve the placement of a custom, lifelike dental crown.
Discuss Continued Pain With Your Dentist (Even If The Tooth Looks Fine)
When you have a problem with pain but cannot see anything wrong with the tooth, you should still take the matter seriously. Your discomfort can point to an internal issue, one that will require endodontic treatment via root canal therapy. To help relieve you of discomfort in a timely manner, we can provide an emergency appointment. Letting a potential infection go untreated for too long leads to complications, as you can experience issues with bacteria traveling through a tooth's roots and experience tooth loss!
Dr. Browne Is Ready To Help Prairie Village, KS Residents Dealing With Dental Injuries
Through timely treatment for dental injuries, our practice can stop problems that threaten your smile and oral health. We are happy to help patients understand what we can do for them at times when they need care on short notice, just as we are prepared to offer consistent support over time to prevent difficulties. If you would like to find out more, reach out to our Prairie Village, KS dentist's office at 913-901-8585.