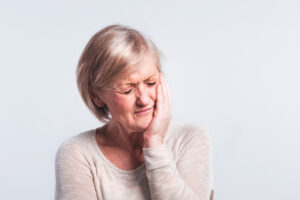 The shock and immediate discomfort you feel when you break a tooth can be understandably hard to ignore. However, you should not take too long to react, as the more time you wait on care, the more likely you are to face complications. You should know that patients of Dr. Browne are encouraged to reach out to our Prairie Village, KS dentist's office when they require emergency dental services. We can make time for you on short notice so that a broken or otherwise harmed tooth can receive the prompt support that it requires. In addition to reducing the time that you spend in discomfort, timely care can lower your risk for potentially losing a tooth that is in poor condition.
A Broken Tooth Is Not Something That You Can Easily Ignore
Any time you have a problem with your smile, it can be difficult to ignore. When a tooth is broken, you can feel self-conscious about the way you look, and you can have understandable worries about your oral health. Based on the severity of damage, you can also find it difficult to bite and chew, another factor that interferes with your daily life. Our office can prepare to see you on short notice should you require restorative dental work for an active problem like this. At your appointment, we can assess the harm and decide on what kind of care you should receive.
Arranging Your Emergency Appointment
When patients come to us for emergency oral health services, our goals include fully restoring their oral health and preserving how they look. We will look for the most conservative treatment option possible for you when you arrive. A dental crown can keep your tooth safe while restoring its appearance. It may be necessary for us to precede this work with root canal therapy so that your health needs are completely met. In the event that we have to remove the unhealthy tooth, we can replace it with a prosthetic appliance that offers bite support and cosmetic benefits.
Will Your Smile Look Different After Your Tooth Is Broken?
Whether we move forward with cosmetic, restorative, or even prosthetic dental work after your tooth is broken, we can make the restoration of your smile a priority. This is thanks to the different lifelike appliances that are used in treatment for teeth that are visible when you smile and speak.
Talk To Your Prairie Village, KS Dentist About Treatment For A Broken Tooth!
A broken tooth is certainly not something easy to ignore. Fortunately, you can have it restored in less time than you might think possible when you bring the matter to Dr. Browne's attention! If you would like to learn more about how we can care for your smile in an emergency, please reach out to our Prairie Village, KS dentist's office at 913-901-8585.