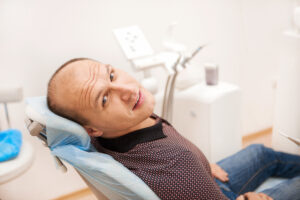 There are important services that take place at the dentist's office, including services to address the impact that a physical injury can have on a person's smile and oral health. At our Prairie Village, KS dentist's office, we are prepared to support you in the event that you experience trouble with a broken tooth. Through the right restorative services, we can address any internal damage, and we can make sure that the remaining structure is protected with a custom dental crown. We can even make sure that your crown matches your enamel in order to preserve your smile. One other way we make sure our patients are supported is by making emergency services available, so you will not have to endure an awkward or painful wait to have your injured tooth treated!
We Are Here To Help If You Break Your Tooth
As strong as they are, our teeth are still vulnerable to injuries, and that means you can find yourself with damage that needs to be treated. If your tooth breaks, you can reach out to us to arrange an emergency dental appointment. Because you have the capacity to schedule care on short notice, you can avoid complications that leave you with a more severe injury, or with an infection that puts your overall oral health in jeopardy.
Restoring Your Smile With A Custom Dental Crown
Custom dental crowns make it possible for us to protect vulnerable tooth structure while also making sure you can still bite and chew without difficulty. These restorations are carefully crafted so that they look like natural teeth, which is why they can be placed in a prominent position without hurting your smile. Before you receive your restoration, we will carefully evaluate your tooth and prepare it for the placement process. By doing so, we can make sure that you have the right long-term benefits from your procedure.
Treating Internal Damage Stemming From An Injury
It is possible for an injury to cause internal problems for your tooth. When this occurs, we can make sure that they are addressed by providing root canal treatment. During a root canal, your pulp—the central chamber of your tooth—will be accessed so that we can remove bacteria and unhealthy tissues. You will receive your custom crown after the completion of this service.
Talk To Your Prairie Village, KS Dentist About Prompt Treatment For A Broken Tooth
Because our patients have access to prompt care when they experience problems with dental injuries, they are not left in the difficult position of managing pain and preventing further damage before they can undergo restorative treatment. If you would like to find out more about how we can take care of you during an emergency, please reach out to our Prairie Village, KS dentist's office at 913-901-8585.