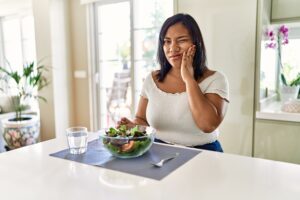 Ideally, a nice meal will end with conversation and your check. It is safe to consider a meal that ends with a chipped, cracked, or broken tooth less than ideal, but this is a situation people sometimes find themselves in. Fortunately for patients of Dr. Browne, our Prairie Village, KS dentist's office is prepared to offer support on short notice! Because we provide emergency dental services, we can help patients receive prompt support when they experience injuries while eating, or in any other circumstance where physical trauma or discomfort becomes a concern. In addition to making sure your health is tended to, we can ensure that you receive the kind of care that will preserve your appearance.
We Can See You Shortly After Your Meal Ends With A Broken Tooth
If your meal concludes with a problem that requires professional dental work, know that our practice is ready to provide emergency oral health services. As soon you can, reach out and let us know that you need to come in for treatment to restore a broken tooth. When you are here, we can perform an evaluation to determine if you will need cosmetic dental work to hide the harm to your enamel, or if you will need to arrange restorative dental work. Based on the state of your tooth when you arrive, we can proceed to care for you and leave this issue behind you.
Emergency Services Can Fully Respond To Dental Problems
Just as we would during a routine restorative treatment, our goal during emergency care is to provide lasting support for your tooth while taking care to maintain your smile. We do have the option of restoring teeth with dental crowns that imitate healthy enamel. When one of these restorations is in place, it can be difficult for people to determine if anything at all has happened to your smile! If necessary, we can provide this restoration after addressing any internal damage to the tooth through root canal therapy.
Contact Your Prairie Village, KS Dentist If You Have A Dental Emergency
Dental emergencies can become a sudden priority. All it can take is one unlucky bite during a meal to leave you with a tooth that is chipped, cracked, or broken in a more severe manner. Because our practice is prepared to take care of patients on short notice, we can respond in these situations and make sure injuries are properly resolved. We can also supply regular support during routine dental exams and cleanings, which control your risk for future problems with gum disease or dental decay. If you would like to find out more about how we can take care of you, please reach out to our Prairie Village, KS dentist's office at 913-901-8585.