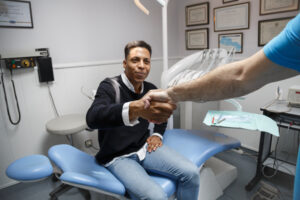 It is important that you have time for your regular dental checkups, and that you can schedule treatment when you begin to worry about a problem. With that said, it is also beneficial to know that you can schedule treatment on short notice when there is a potentially serious problem with your dental well-being. At our Prairie Village, KS dentist's office, our patients can rely on us to provide support during emergency dental health issues. That means when a dental injury or painful toothache affects you, it will be easier for you to set up the care you require to put your trouble behind you.
The Importance Of Timely Care
You can understandably hope to avoid the kinds of problems that make emergency dental work necessary. However, you can feel better knowing that if something does come up, you can schedule care on short notice to make sure an injury or infected tooth is dealt with properly. There are several reasons why this is advantageous. Your immediate concern can focus on dealing with discomfort and the visible effect your problem has on your smile. As relieving as it can be to know that you can put these issues aside promptly, you should know that timely care is also important for preventing complications. Because you can address trouble before it grows more serious, you can limit what kind of care you ultimately require.
We Are Here When Patients Need Treatment On Short Notice
When it is called for, we can bring a patient in to provide important restorative dental services. If your tooth is damaged, loose, or dislodged, take care to protect it as best you can before you reach our office to prevent further complications. Depending on the state of the tooth at the time of your arrival, we will evaluate it and determine what it may take for you to have your smile properly restored. When appropriate, we can provide more involved services, including root canal treatment, so that internal issues are properly dealt with.
Restorative Treatment Can Also Take Care Of Your Appearance
Whether you require cosmetic dental work, restorative treatment, or even prosthetic dentistry to fully deal with your dental emergency, you can count on your procedure to make sure that your smile is preserved. Our restorations can provide both functional support and cosmetic benefits, so you can enjoy lasting support from your treatment.
Talk To Your Prairie Village, KS Dentist About Our Emergency Dental Services
The emergency dental work provided at our practice can help patients who find themselves in vulnerable positions due to injuries and advanced tooth infections. If you would like to learn more about the services that we provide, please reach out to our Prairie Village, KS dentist's office at 913-901-8585.