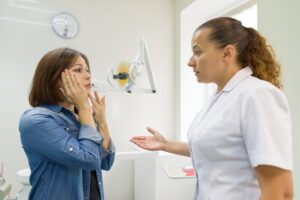 You may not spend time thinking about what you should do if you start to experience oral health problems, but you should feel confident about your access to treatment when a problem arises. In addition to providing routine preventive and restorative services, our Prairie Village, KS dentist's office can help you by providing you with access to emergency oral health care. We want our patients to know that they can rely on us when trouble arises, as it can make a stressful situation feel more manageable. When you come in for urgent care, we will make sure you have the support that you require, and that you have access to care that will preserve your appearance.
Enjoy Timely Support For Dental Problems
The longer it takes for you to arrange treatment for an active dental problem, the more likely you are to experience frustrating complications. Having access to prompt support does more than just help you avoid worsening trouble for your dental health—it will also make it possible for you to restore your appearance without a frustrating wait. Our patients can count on Dr. Browne and our team to help them secure support soon after a problem arises, which can keep an already difficult situation from becoming even more frustrating.
Emergency Treatment Helps You Avoid Oral Health Complications
Through emergency dental work, we can make sure that a vulnerable tooth is protected, and we can ensure that any internal damage is properly addressed. When you arrive, we will evaluate you to see if your support should include a root canal procedure. This service will remove bacteria and infected tissues that are within the tooth structure before sealing your pulp to keep it safe against new threats. Following this, we can place a lifelike dental crown for protection. An infection or internal injury that is not caught in time can lead to more pain, and it raises your risk for complications that include tooth loss!
Your Procedure Can Restore Your Smile As Well As Your Oral Health
Whether you need to have cosmetic issues addressed after a tooth injury or treatment to restore one that is in poor health, we can see to it that our emergency services preserve your appearance. The good news is that because you can seek help before further harm occurs, you have a better chance of having your dental troubles resolved while more conservative care is still possible.
Talk To Your Prairie Village, KS Dentist About The Emergency Services We Provide
Through the emergency services that are provided by your Prairie Village, KS dentist's office, you can remain confident that your smile and oral health will be preserved when you experience oral health issues. If you have questions or would like to find out more, please reach out to our Prairie Village, KS dentist's office at 913-901-8585.