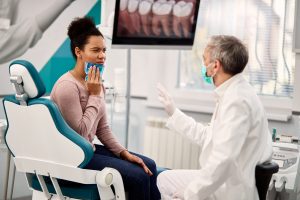 In those moments where you have serious dental pain, or in the aftermath of a physical injury that affects your smile, it can be reassuring to know that your dentist is prepared to help you. At our Prairie Village, KS dentist's office, we want our patients to be aware that our office is here for them even at times when they need our support on short notice. When you find yourself in the dentist's chair, you can receive the kind of restorative treatment that puts a stop to discomfort and addresses damage. We can even work with you to save your full smile if you have a tooth that is loose or dislodged!
Some Problems Can Call For Treatment On Short Notice
A problem with tooth decay or gum disease can gradually worsen, but it can take time for you to realize that something is wrong. One benefit to regular dental exams is that your dentist can spot them and recommend care before you are aware that you needed treatment. With that said, not everything that affects your smile can take time to grab your attention. The onset of an infection can lead to worrying pain, and a physical injury can alter your smile and put its health at risk. In these situations, you can be relieved to know that you do not have to wait for another routine visit to discuss your concerns. By scheduling an emergency procedure, you can make sure these matters are addressed before they can cause any further difficulties.
Arranging Your Emergency Dental Work
When you arrive for emergency dental work, Dr. Browne will carefully examine you to see what kind of care you might require. The severity of your problem will affect what we do to take care of you. In a situation where you have internal damage, we can provide a root canal treatment to stop an infection or damage from causing further issues. After evaluating damaged enamel, we can determine if you might require a dental crown, or if you might benefit from cosmetic dental work.
We Can Restore Your Oral Health And Restore Your Smile
Whether you need to restore a damaged tooth, address an infection, or resolve a problem with tooth loss, we can work with you to preserve your smile as well as your oral health. Through the use of restorations that match your enamel, we can keep teeth safe and secure while we also support your bite function.
Talk To Your Prairie Village, KS Dentist About Treatment During An Emergency
There are certain oral health issues that call for treatment on short notice. If you experience one, know that Dr. Browne is ready to help! Our practice is prepared to meet with patients who find themselves in need of emergency dental work. To find out more about how we can help you if you find yourself in this situation, please call our Prairie Village, KS office at 913-901-8585.