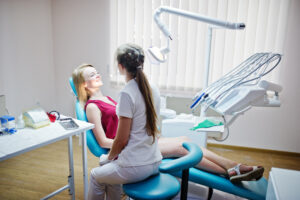 What steps should you take to treat a tooth that has been cracked? A physical injury that affects your smile can feel difficult to manage. In addition to causing you discomfort, the harm can leave you vulnerable to more structural damage as well as a potential infection. At our Prairie Village, KS dentist's office, we can provide prompt care for your cracked tooth. At your emergency dental appointment, we can evaluate you to see what the appropriate treatment is to help you fully recover. While there are times when conservative cosmetic dental work can help, it may take a more advanced treatment than you initially expect to make sure that you fully recover.
We Are Ready To Take Care Of Patients Who Experience Dental Injuries
In the event that you suffer a dental injury, you do not have to feel lost when it comes to scheduling the appropriate care. Timing can certainly be important when it comes to physical harm. You can be vulnerable to an infection when there is a crack in your enamel, and you also need to be wary of further harm affecting the structure itself. By booking emergency dental work, you can have your risk assessed and receive the appropriate care before there are complications.
Planning Your Emergency Dental Work
We make emergency oral health services available to our patients who need support on short notice. As soon as you can, let us know what is happening with your tooth so that we can prepare to see you. Take care to avoid putting pressure on the tooth; to manage any discomfort you feel, you can take an over the counter pain reliever. When you arrive, Dr. Browne will evaluate you to see what kind of work is appropriate for giving your tooth lasting protection.
Dealing With Complications From A Serious Injury
The injury that cracks your tooth can lead to more problems than you initially anticipate. An infection can form due to trauma, either due to the damage itself or the exposure from the cracked enamel, which makes a root canal procedure necessary. By providing this restorative dental service, we can resolve problems with an internal infection or injury so that your tooth does not experience any further discomfort. When internal issues are not dealt with, the problems with a tooth will continue to worsen, something that can actually lead to its loss!
Your Prairie Village, KS Dentist Is Ready To Help You Deal With A Cracked Tooth!
A cracked tooth is not a problem to take lightly, but it is one that we can take on without a frustrating wait for treatment. If you want to learn more about our emergency services, or about any other forms of care that we provide, please reach out to our Prairie Village, KS dentist's office at 913-901-8585.