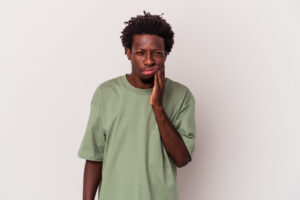 There are different reasons why people need to seek restorative treatment for their dental health. Cavity issues are frequently the cause for alarm, but there are times when physical injuries need to be dealt with. Our Prairie Village, KS dental practice is here to help when trouble requires treatment. In situations where physical trauma or dental decay lead to infection, we can make sure you receive the right oral health care on short notice. Timing matters when it comes to infections, because without the right treatment, the problems with your tooth can progress, and you can wind up experiencing serious complications, including the loss of your tooth!
How Does A Tooth Become Infected?
A tooth becomes infected when bacteria make their way into the pulp and create problems for the living tissues that are housed within. As the problem forms, you can experience problems with pain and sensitivity, and you can become alarmed by how tissues around the tooth appear swollen and discolored. In a situation where a tooth's condition seems serious, you should know that there may be a limited time before problems worsen to the point where it must be extracted. At our practice, we can help you avoid this by bringing you in for an emergency dental procedure.
Scheduling Emergency Treatment In Response To Serious Dental Pain
Through emergency dental services, we can help patients who worry that a tooth in poor health is vulnerable to being lost, as well as those who simply feel unable to ignore the amount of discomfort that they feel. When you arrive for treatment, we can provide an evaluation to see what kind of care you require. After confirming that your tooth is infected, we can perform root canal therapy to remove the threat and stop your discomfort. From there, we will protect you by placing a custom dental crown.
Remember That Your Regular Visits Lower Your Risk For Severe Tooth Decay
Dental decay may not cause you any discomfort at first, but as the damage to your tooth grows more serious, the problem can turn into an uncomfortable one. What you should know is that when you regularly schedule dental checkups and cleanings, you can have early cavities identified and treated. This means no issues with infection occur, and more of your healthy structure is preserved.
Talk To Your Prairie Village, KS Dentist About Treatment For An Infected Tooth
The symptoms of tooth pain can be difficult to ignore, as you can experience significant pain in addition to problems with sensitivity and changes in the tissues around the tooth. When this becomes a concern for you, know that Dr. Browne is prepared to help, even when the matter seems to call for treatment on short notice. If you have questions or want to make an appointment, please reach out to our Prairie Village, KS dentist's office at 913-901-8585.