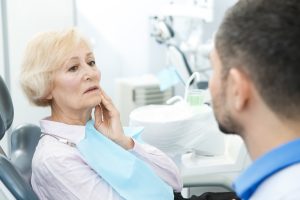 As a cavity worsens, bacteria will make their way through your enamel to access your pulp, your tooth's central chamber. When this happens, you can experience a painful tooth infection that leaves you understandably concerned about your overall oral health. If this pain is serious, it may be difficult to focus on anything beyond your need for treatment. Fortunately, your Prairie Village, KS dentist can help in this situation. When you come to us for treatment, we can provide emergency oral health care to tend to issues that cause significant discomfort. Through the appropriate services, we can stop a worsening infection, and we can make sure that your tooth is protected with the appropriate restoration.
Are You Experiencing Pain From An Infected Tooth?
If you have pain in your tooth without an obvious cause, it can be traced back to an infection that has formed due to advanced dental decay. This is a serious issue, one that can eventually cause tooth loss and even lead to more health difficulties. It can also be a hard problem to overlook, as the pain you feel can be difficult to tune out. When your discomfort is serious enough to interfere with your daily life, you can reach out to your dentist to schedule emergency services. These services provide important protection in these circumstances as well as in other instances where a tooth is in serious pain or at risk for being lost.
Scheduling Emergency Dental Work
Our approach to emergency dental work takes on problems with a tooth's health as well as its appearance. Once you arrive, we can provide an evaluation to determine what kind of help you require. After we do this, we can move forward with a procedure to stop bacteria within your pulp. Root canal therapy will remove harmful microbes as well as unhealthy tissues. After we do this, we will make plans to restore your tooth with a dental crown.
Staying Safe Against Future Dental Infections
Regular dental exams provide important protection against cavities that can lead to painful tooth infections. One reason for this is that you can receive a dental filling for a smaller cavity that puts a stop to decay. You also receive important preventive services that fight plaque and tartar buildup, which will help you remain safe against new problems.
You Have Access To Urgent Care From Your Prairie Village, KS Dentist
The pain you feel from an infected tooth can be difficult to ignore. If you feel that treatment is an urgent concern because of your discomfort, our practice is here to help! Patients of Dr. Browne can come to us for support when they experience a dental emergency. To find out how we can help you, or to learn more about our different services, please call our Prairie Village, KS office at 913-901-8585.