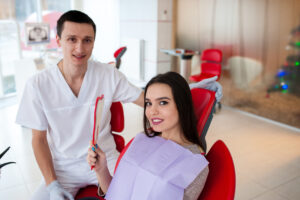 If an unfortunate injury leaves your smile in poor condition, it can be hard to wait on the appropriate dental treatment. Unfortunately, when people are unaware of what emergency services might be available to them, they can feel unsure about how to make sure that they receive the right support on short notice. Our Prairie Village, KS dentist's office wants our patients to know that we are here for them when they experience issues that call for urgent care. Emergency dental services can shorten the time that you have to spend with a visibly flawed smile. We can also make sure that you have the care you require when more serious issues require more than just cosmetic work.
What Can You Do About A Noticeable Dental Injury?
A chip or crack that affects one of your front teeth can dramatically change your smile for the worse. Fortunately, our teeth are protected by strong outer layers of enamel that reduce our risk for this kind of harm. When a problem does occur, your access to emergency dental services can ensure that it is managed as soon as possible. As soon as you can, let our practice know what has happened so that we can arrange to bring you in for support. Once you arrive, we can perform an evaluation and determine what the right course of action is to restore your tooth and smile.
We Can Bring You In For Prompt Treatment
Because our office offers emergency dental services, we are prepared to hear from patients who need to see as soon as possible for in-office care. Whether you have cosmetic concerns because of a chip or crack in a tooth or more serious trouble to resolve, we can prepare for your arrival and look at how we can take care of you. Dr. Browne will look for the most conservative solution that can effectively address issues with your bite health, appearance, and dental well-being. From there, treatment can begin, and you can look forward to regaining your confident smile!
When Your Tooth Requires More Than Just Cosmetic Care
For injuries that leave teeth badly broken, loose, or even completely out of socket, restorative services can be required. In the most severe situations where teeth cannot be restored, we can discuss prosthetic dental work. A restoration held in position by a dental implant can offer cosmetic and functional value, and it will help you preserve your oral health over time.
Talk To Your Prairie Village, KS Dentist About Treatment For Dental Damage
Dental damage is not something to take lightly. It can be an issue for your oral health, and it can certainly cause concerns about your appearance. If you find yourself in a situation that requires treatment on short notice, please reach out to our Prairie Village, KS dentist's office at 913-901-8585.