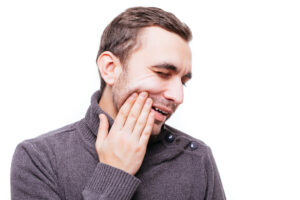 When your tooth is cracked or broken, or when it is left loose or completely dislodged after an injury, it can be hard not to worry that it cannot be saved. Unfortunately, our teeth can be badly hurt to the point where they need to be replaced, even when emergency services are provided. With that said, urgent dental appointments can certainly improve your chances of saving one when it is vulnerable to being lost! Our Prairie Village, KS dentist's office wants our patients to know that we are here for them when they need work done on short notice. Because of this, we can reduce your risk for tooth loss due to physical trauma.
Emergency Services Help Save Teeth That Are Vulnerable To Being Lost
Physical injuries are not the leading cause of tooth loss—the issue most likely to cause this is advanced gum disease. With that said, timely treatment is important when trauma affects your smile. When your enamel is cracked or broken, you become vulnerable to an infection that will cause your oral health to worsen. If the tooth is knocked loose, or when it is completely out of its socket, you can have a limited time to undergo a procedure capable of saving it. To make these problems less likely to result in a permanent loss, our practice wants patients to know that we are here to provide emergency dental services when an injury affects them.
Responding To Injuries That Chip, Crack, Or Break Your Tooth Structure
If your enamel is chipped, cracked, or partially broken, we can determine what kind of procedure is right for you. Sometimes, chips and cracks only make cosmetic dental work necessary. However, if the damage is too serious, restorative dental work will be required. It may even be necessary to provide root canal treatment to resolve internal problems. The good news is that even if more advanced care is needed, we can still preserve your smile by providing a custom dental crown that imitates your healthy enamel.
Addressing Problems With Loose Or Lost Teeth
If a tooth is left loose or completely dislodged by an injury, we can look into saving it. If you can, try to keep it in its socket. If this is not possible, be sure to only handle it by its crown (the part that is normally above the gum line), preserve any organic tissues left on it, and keep it from drying out with a container of milk. In the event that saving the tooth is not possible, we still have the ability to restore your smile. We can discuss prosthetic treatment to preserve your appearance and dental health if there is not a way to save the tooth.
Talk To Your Prairie Village, KS Dentist About Treatment For A Vulnerable Tooth
Through treatment to restore a vulnerable tooth, we can stop a dental emergency from leaving you with an incomplete smile! If you would like to find out more, reach out to our Prairie Village, KS dentist's office at 913-901-8585.