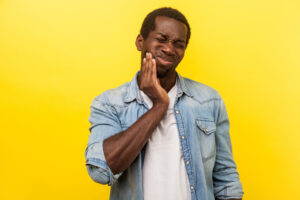 Dental restorations are put in place so that vulnerable teeth remain safe from harm after treatment. At our Prairie Village, KS dentist's office, we can provide lifelike dental fillings and dental crowns after treatments for cavities and dental injuries that provide long-term support as well as cosmetic benefits. We are also ready to step in and help when restorations start to feel loose, become injured, or simply no longer feel comfortable. You should know that problems with these restorations should not be taken lightly. Without their protection, a tooth that has been restored becomes vulnerable to new problems. To address discomfort and make sure your smile is safe, we can see you on short notice to deal with a problem with your filling or crown.
What Happens When A Restoration Is No Longer Secure?
A dental restoration is not something that is put in place to temporarily help a tooth. To keep teeth safe after cavities or injuries affect them, it is necessary to provide permanent protection from fillings and crowns that can offer lasting stability and support. With the right hygiene routine and care, you can protect them and ensure that they hold up for many years. At regular reviews, your dentist can look for any early warning signs that an older one might need to be replaced. However, we understand that problems can occur seemingly without warning. Just as an unexpected problem with your tooth can make prompt care necessary, an issue with a filling or crown can make treatment a priority.
Addressing A Loose, Lost, Or Broken Crown Or Filling
As part of our commitment to emergency dental services, we can help patients who experience difficulties with a broken, loose, or lost restoration. A review will take place as part of your treatment, which will let us know if the problem with your restoration has created a problem with your tooth. We can address any new harm to your enamel so that there are no complications. We can also supply you with a new restoration. It may be necessary to provide a new crown in place of an older filling, as your tooth may require more support.
Why We Want Patients To Know They Have Access To Emergency Care
We want patients to know that there are services available to them on short notice that can solve problems with dental injuries, pain, and other matters. Knowing that you can arrange treatment on short notice will make it easier for you to stop a problem before there are complications that increase your discomfort or make you more likely to lose a tooth.
Reach Out To Your Prairie Village, KS Dentist About A Problem With A Restoration
By responding to problems with an uncomfortable, loose, or lost restoration, you can protect your tooth and preserve your smile. If you want to find out more about how we can help you, reach out to our Prairie Village, KS dentist's office at 913-901-8585.