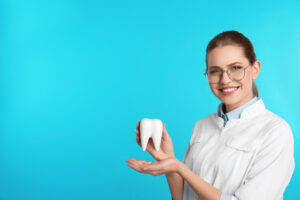 Any dental emergency can be upsetting, but an injury that leaves you with a dislodged tooth can be especially distressing for you. You can worry that the loss will be permanent, leaving you with an incomplete smile that is less healthy and less attractive. You can also struggle with feelings of uncertainty if you are not aware of where you can turn for emergency dental work. For patients at our Prairie Village, KS dentist's office, urgent care is available when it is needed. We can make arrangements to see you on short notice to address any issue that puts your oral health and appearance at risk, which can lead to a prompt response to discomfort as well as worrying dental damage!
Lost Your Tooth? You Can Schedule An Emergency Dental Visit
If your tooth is knocked loose or completely dislodged, you can see your dentist for an emergency procedure to save it. Having access to prompt care makes this experience easier, but you can still have questions about what you should do to protect a tooth that is no longer in its socket. We can offer helpful information when you call to set up your appointment so that you have an easier time protecting it before your arrival.
Carefully Handling Your Dislodged Tooth Before Treatment
Properly handling a lost tooth will improve your chances of having it returned to its socket and restored. Make sure you only handle the crown (the portion above your gum line) and not the roots. If you need to remove dirt or debris, wash it gently, but leave any organic tissues in place. Transporting the tooth in a small container of milk can protect it from drying out.
Having Your Full Smile Restored
When you arrive for emergency dental work, our priority will be to preserve your full smile. Prompt care and a properly handled tooth can make this more likely. Unfortunately, if the damage is too severe, there may not be a way to save it. In this case, we may need to plan a prosthetic treatment to give you back your complete smile. Fortunately, a restoration held in place with a dental implant can provide permanent coverage and also support your bite function.
Reach Out To Your Prairie Village, KS Dentist For Urgent Dental Care
Through your access to emergency dental services, you can improve your chances of saving a tooth that is knocked loose or completely out of socket. Our practice is here to help during these and other situations where prompt treatment is recommended. We are also here to provide a range of preventive, cosmetic, and general restorative services for people in and around the Prairie Village community. If you would like to find out more about how we can help you, please call our Prairie Village, KS dental office at 913-901-8585.