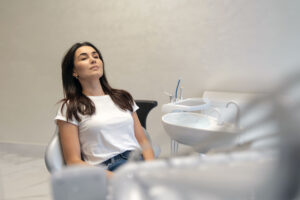 You may typically only see your dentist for a new checkup every six months, but there are times when you can require an appointment in the shortest time possible. Our Prairie Village, KS dentist's office wants our patients to know that we are here for them in these situations. If you are in need of urgent attention, we can bring you in for emergency dental work to address problems like severe discomfort, dental damage, and problems with loose or dislodged teeth. Timing matters in situations where your oral health is affected. The longer you wait for care, the more time you have to spend with visible damage or active tooth pain. A delay can also put you at risk for complications that raise your risk for tooth loss and other issues.
Dental Issues Sometimes Require Treatment As Soon As Possible
A potentially serious problem with your tooth can require attention in the shortest time possible. To provide this kind of care, we are prepared to bring in a patient for urgent dental services. Problems that call for this kind of attention can include trouble with food wedged between teeth that you cannot remove by flossing, visible dental damage, problems with a severe toothache, and concerns about a tooth that feels loose (or is already out of socket).
Arranging Emergency Dental Services
Contact our practice as soon as you can when you think you need to arrange an emergency procedure. When you do so, you can make sure that we are ready for you, and we can provide guidance to make the matter feel easier to manage before your appointment. As soon as you are in the office, your trouble can be reviewed by Dr. Browne to determine what kind of care you need. Our focus will be on fully resolving the matter in the most conservative way we can, which means preserving as much of the tooth structure as possible and only recommending extraction and replacement when there is not another option.
What To Expect From Urgent Care To Restore Your Smile
Once you arrive for your appointment, we can determine what shape your tooth is in and see how we can help you take it on. Dental damage can be treated through cosmetic dental work or through the placement of a crown. While cosmetic services require fewer changes to your tooth structure, crowns provide more functional support. When there are issues with internal damage or discomfort, a root canal procedure can be required.
Talk To Your Prairie Village, KS Dentist When You Need Dental Work On Short Notice
If you find yourself in need of urgent dental treatment, our practice is ready to help! To find out what Dr. Browne can do for you during a dental emergency, please reach out to our Prairie Village, KS dentist's office at 913-901-8585.