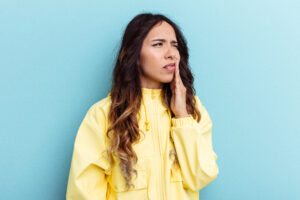 While it may not be quite as alarming as having a tooth completely knocked out, having a tooth feel loose after an accident can certainly be upsetting. Will there be a way to save it? How much time do you have to see your dentist before you have to worry about complications? Will it be safe to bite and chew with it after treatment? One thing to know is that when physical trauma affects your oral health, you should seek care as soon as possible. Fortunately, your Prairie Village, KS dentist is ready to support you when problems require attention on short notice. After we make arrangements to see you, we can perform a review to see what we can do to restore your tooth and your overall oral health.
A Loose Tooth Can Certainly Be Cause For Alarm
You can be understandably worried about your smile and oral health when you have a tooth that is knocked loose. Even if it feels relatively stable, that insecurity can have you worried about tooth loss and other oral health difficulties. You should make an appointment with your dentist a priority when you have an issue like this. For injuries, including those that lead to teeth becoming loose or lost, prompt care can reduce complication risks and make it easier to preserve all of your teeth.
We Can Welcome You For Treatment On Short Notice
Because our practice is here to help when patients experience dental emergencies, you can have a clear idea of who to turn to when something is wrong. Reach out to let us know what has happened, and that you need our help; if necessary, we can offer tips on managing discomfort and protecting a vulnerable tooth before you arrive. When you are in our office, Dr. Browne can evaluate you to see what can be done. If there is a way to save your tooth, we can move forward with care, and we can even provide restorative dental work that preserves the tooth's appearance. Even if this is not possible, we can move forward with prosthetic dental work that can preserve your dental function and appearance.
What If My Tooth Cannot Be Saved?
In the event that a tooth simply cannot be saved, we can shift our focus to prosthetic treatment that lets you maintain your smile and dental health. With a custom restoration secured on a dental implant, you can enjoy functional support as well as cosmetic benefits from treatment to replace a lost tooth!
Talk To Your Prairie Village, KS Dentist About A Loose Tooth
Through treatment to restore your loose tooth, we can give you back your confidence in your appearance, and in your dental health. For more information on how we can take care of you in this and other situations, please call our Prairie Village, KS office at 913-901-8585.