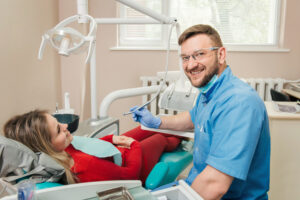 If you lose a tooth, or if one is loosened after an injury, seeing your dentist as soon as possible will be a priority. To make arranging this care easier, our Prairie Village, KS dentist's office wants patients to know that we are here to help them during this and other kinds of dental emergencies! At your appointment, we will determine whether a tooth that is out of socket can still be saved. In the event that it does need to be replaced, we can talk with you about different options for prosthetic treatment that will give you back your complete smile.
Can A Lost Tooth Be Saved?
There are times when a lost tooth can be protected and effectively put back in place. To improve your chances of having yours returned to its socket, there are actions that you should take. One is to make sure the tooth remains as safe as possible as you make your way to your appointment. Only handle it by its crown (the portion that resides above your gum line), gently wash it with water if it is dirty, and leave any organic tissues in place on the tooth. To keep it from drying out, you can use a small container of milk to carry it. Because we can make plans to see you on short notice, we can address the matter the tooth has been out of place too long to be restored.
Seeking Treatment During A Dental Emergency
Whether you need emergency dental work for a tooth that is loose in its socket, completely knocked out, or damaged, we can make sure that you have prompt access to the necessary restorative dental work. Let us know as soon as you can that you need our services. When you arrive, we can determine what kind of help you need based on the state of your oral health. Whether your tooth needs to be restored or replaced, we can take care to work with you so that your full smile is preserved.
When Necessary, We Can Provide Prosthetic Work
If there is not a way for us to save a tooth, we can instead look at options for prosthetic treatment that will keep your full smile intact. With a dental bridge, we can close an empty space in your smile without the need for oral surgery. To provide more support for your jaw health and secure a restoration without modifying neighboring teeth, we can recommend that you have a dental implant put in place to hold the restoration you receive.
Talk To Your Prairie Village, KS Dentist About Treatment After You Lose A Tooth
A lost tooth can be a cause for serious alarm, as it leaves your smile and oral health in a worrying condition. Patients at our practice can turn to Dr. Browne for help when they have potential dental emergencies to address. If you would like to learn more about our urgent care, or if you have any other questions about our services, please call our Prairie Village, KS office at 913-901-8585.