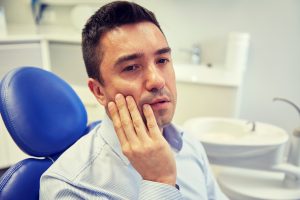 Should you be in a hurry to plan a dental treatment? Routine care can occur semiannually, and your dentist can talk to you about treatment times if problems are identified at one of these visits. In cases where you experience physical tooth trauma, or when pain becomes difficult to ignore, we can make your care a priority. Injuries and pain can call for emergency dental work, something that our Prairie Village, KS dentist's office can provide. When you come in for care, we will see what we can do to provide the appropriate treatment so that your smile and oral health concerns are completely resolved.
Our Office Is Here To Help When You Need Urgent Dental Care
Sometimes, problems call for prompt care to both avoid worsening oral health trouble and to put a stop to active discomfort. We want our patients to know that Dr. Browne is prepared to care for them when they have issues that might require urgent dental treatment. At your appointment, we will look for the most conservative treatment option that can fully resolve your difficulties. With that said, we are prepared to provide more involved services when necessary, which can include the extraction and replacement of a badly hurt tooth.
What Problems Call For Urgent Treatment?
If your enamel is chipped, cracked, or broken, if your tooth is loose or knocked out, or if you have a worrying amount of pain, we can help you by providing emergency restorative dental work. At your appointment, Dr. Browne will check to see what kind of treatment you need. Some physical injuries can be addressed through cosmetic treatment, but they can require more involved care. While it may not be possible to save a dislodged tooth, timely support improves your chances of saving it. Persistent pain without an obvious cause can point to a problem with an infection, something that we can address through root canal therapy.
Will Treatment Affect The Way You Look?
Our restorative and cosmetic services are capable of taking care of visibly damaged teeth without changing your smile. In the event that you need a dental crown instead of cosmetic work, we can determine how a lifelike crown can help you. Lifelike crowns are capable of matching your appearance while still providing functional support when you bite and chew.
Our Prairie Village, KS Dentist's Office Is Here To Help When You Need Urgent Dental Care
Urgent dental problems can be difficult to endure, but it can be less stressful to deal with when you remember that you have access to emergency treatment. For more information on our approach to urgent care, or to discuss any other matters related to your oral health, please call our Prairie Village, KS office at 913-901-8585.