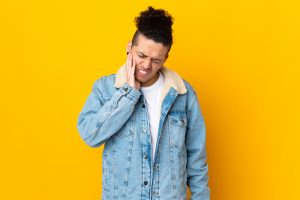 A cavity will worsen over time after forming, and it will not cease to be a threat to your smile until you see your dentist for restorative treatment. At our Prairie Village, KS dentist's office, Dr. Browne is prepared to identify and treat cavities during regular exams, but we are also prepared to help if you need to see someone because of a more severe cavity that has formed. Eventually, decay can lead to an infection of your tooth, something that can cause considerable discomfort and call for urgent treatment. We welcome patients who need to set up an emergency appointment to stop an infected tooth's deterioration – in addition to putting an end to your pain, we can keep you from potentially losing your tooth!
An Infected Tooth Can Become A Hard Problem To Ignore
As a tooth infection develops and worsens, its effect on your well-being can be difficult to tune out. One big issue is pain. Simply put, the discomfort from your infected tooth can stop you from comfortably biting and chewing, and may intrude on your daily life to the point of disrupting your schedule. You can also experience a rise in sensitivity that makes eating and drinking difficult, and trouble with visible discoloration or swelling of tissues around the tooth. If you start to struggle with the symptoms of an infected tooth, we can bring you in for a procedure on short notice.
Scheduling Restorative Treatment On Short Notice
We provide treatment for advanced dental decay, even when that treatment is needed in the shortest time possible. When you come in for an emergency dental procedure, Dr. Browne will evaluate you to determine how we can help you put trouble with your smile behind you. An infection is something that we can treat by performing root canal therapy. During this treatment, we will carefully clear away infected tissues and bacteria before sealing your pulp to protect you against further trouble. After this is finished, we can make sure that your tooth stays safe by providing a custom dental crown.
Am I At Risk Of Losing My Tooth?
If you put off a dental appointment when you have a possible infection, you do put yourself at risk of losing a tooth. Your oral health can steadily worsen until there is no option left but to perform an extraction to stop further trouble with bacteria. If we find that there is not a way to save your infected tooth, we can make sure it is removed safely, then plan to provide you a replacement.
Your Prairie Village, KS Dentist Can Take Care Of Your Infected Tooth
An infected tooth can be a serious issue, one that is difficult to ignore. Fortunately, you can count on our practice to provide treatment on short notice! To learn more about our emergency services, call our Prairie Village, KS office at 913-901-8585.