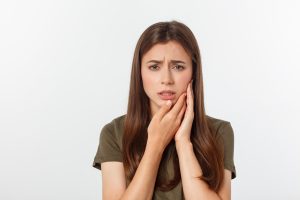 You may have no idea that a cavity has formed at first, but the problem can become difficult to ignore if your tooth becomes infected. An infection can lead to pain and sensitivity, which can impact your ability to comfortably eat or drink. The problem is not something that you want to ignore – over time, the bacteria attacking your tooth can spread through the roots and create new issues for you. Our Prairie Village, KS dentist's office is prepared to help you if you are struggling with an infection. If you think your tooth is in need of treatment, we do make emergency appointments available.
Identifying Signs Of An Infected Tooth
The pain or sensitivity that you feel when your tooth becomes infected can be hard to overlook. In addition to problems with discomfort, you may notice swelling around the tooth, or experience a fever. If you think your tooth might be infected, ignoring it can be a mistake. In addition to growing more painful, you may develop new complications if bacteria pass through the root and attack a different part of your body. At a certain point, the only treatment option left can be to extract the tooth!
What Can My Dentist Do To Help Me Deal With The Discomfort?
In order to stop a painful toothache related to an infection, your dentist can perform a root canal procedure. A root canal involves the careful removal of infected tissues in your pulp – a tooth's central chamber – before the area is sealed to prevent further problems. Patients sometimes withdraw from the idea of a root canal procedure because they expect it to be uncomfortable. Keep in mind that your potential discomfort can be minimized, and oral sedation can further help you feel at ease. You should also remember that your root canal will put a stop to pain by finally taking care of your infection.
Restoring Your Infected Tooth After Treatment
The process of restoring an infected tooth can require more than just a dental filling at the end of your treatment. To make sure that the tooth stays safe, your dentist can provide a dental crown to completely cover it. A custom crown can be made to fit securely over your tooth, and it can be made from a material that closely matches its healthy appearance and texture.
Your Prairie Village, KS Dentist's Office Is Prepared To Address Your Infected Tooth
At our Prairie Village, KS dentist's office, we are prepared to help patients when they feel that they might have an infected tooth. If you are interested in finding out more about our emergency services, or if you think something might be wrong with your dental health, call our Prairie Village dental practice at 913-901-8585.