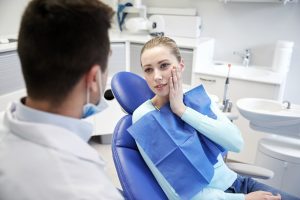 When your tooth cracks, you can have a hard time ignoring the discomfort, and you can feel alarmed by the effect physical damage has on the way you look. The trouble with physical dental trauma is that you become vulnerable to infection as well as to further physical damage. Your Prairie Village, KS dentist's office is prepared to help you take on this and other problems with physical harm during an emergency dental visit! Your appointment will concern more than just the cosmetic impact of your injury. We can carefully evaluate your tooth to determine if you need work to restore your oral health, which can include work to address internal damage.
A Cracked Tooth Can Be A Serious Cause For Alarm
A cracked tooth will leave you at risk for several issues. One is that without some form of protection, you are at risk for more damage to your enamel. As strong as this substance is, its ability to recover from damage is limited, which means a crack will remain and can even grow worse if you put pressure on your tooth. Another concern is with a potential infection. Cracks can leave your tooth structure exposed, and that can give bacteria the opportunity to gather in your pulp and create difficulties for you.
Arranging Your Emergency Procedure
Our practice provides emergency dental services for our patients. Let us know as soon as you can that you have an issue that calls for treatment. We can provide tips on protecting your smile before your appointment, as well as guidance on minimizing discomfort. When you come in for treatment, we can evaluate the tooth to see what needs to be done to restore your smile. If cosmetic dental work is not sufficient for protecting you, we can recommend treatment with a dental crown. A custom crown can match your appearance as well as the shape and size of your tooth to preserve your appearance.
Trusting A Restoration To Preserve Your Smile And Dental Function
With your custom dental crown, we can provide you with both cosmetic and functional support. A restoration is permanently placed, as you will need protection for the lifetime of the tooth. If you start to grow concerned about a cosmetically treated tooth or one restored with a crown, let your dentist know as soon as you can. You should feel confident that your restoration gives you the support to bite, chew, and speak without difficulty.
Talk To Your Prairie Village, KS Dentist If You Need Treatment For A Cracked Tooth
Because our patients have access to emergency dental treatment, they can count on important support at times when they need to do something about a cracked, chipped, or otherwise injured tooth! To find out more about how we can take care of you, please call our Prairie Village, KS office at 913-901-8585.