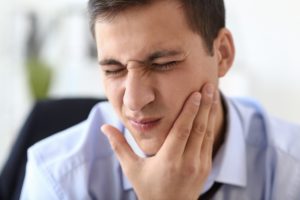 A cracked tooth is more than just an inconvenient problem for your smile. This can be a painful issue, it can create real problems for your appearance, and it will make you vulnerable to problems with your oral health! At our Prairie Village, KS dental office, we can provide emergency dental services in this and similar situations where you require restorative dental work on short notice. When you come in for your treatment, we can examine your tooth and determine what kind of procedure is right for restoring your smile and oral health.
A Cracked Tooth Can Seriously Affect Your Smile And Oral Health
If your tooth is cracked, it can be vulnerable to an infection. Bacteria that gather within your tooth can cause pain by attacking the living tissues housed in your pulp. They can also create more problems over time by spreading through the roots of a tooth and affecting other areas. The sooner you seek treatment, the sooner you can make sure you do not have lasting issues because of an infection. We should note that a crack can also create structural problems, as it can leave you in a situation where your tooth could experience further harm.
Restoring An Injured Tooth With A Dental Crown
Many physical tooth injuries require treatment with dental crowns. Crowns are supportive restorations that surround teeth above the gum line. You will be able to bite and chew comfortably with your restoration, which means you can maintain your natural bite function. A crown made from porcelain can imitate your enamel and preserve the way you look. If you have symptoms of a tooth infection when you arrive, we will have to provide root canal therapy before we place your crown. A root canal removes the bacteria and damaged tissues in your pulp to stop pain and sensitivity issues, and to stop the spread of decay before your tooth's health deteriorates so much that it cannot be saved!
Can I Arrange Cosmetic Dentistry For A Cracked Tooth?
If you seek treatment before you experience unpleasant complications, you may be able to address a cracked tooth with cosmetic dental work. A cosmetic procedure will restore the appearance of a tooth with a more conservative restoration. With a porcelain veneer, we can cover the appearance of a tooth that looks unattractive because of a physical injury. We can also look into the possibility of treatment in the form of tooth bonding and contouring, which does not require the use of restorations.
Talk To Your Prairie Village, KS Dentist After You Crack Your Tooth
Dr. Browne is prepared to help if you need to see someone about a cracked tooth! Through treatment, you can avoid potential oral health complications and put problems with pain and sensitivity behind you. To find out more, call our Prairie Village, KS office at 913-901-8585.