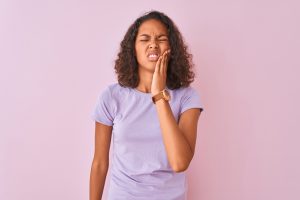 While we are here to provide general dental services for our patients, we are also ready to take on urgent oral health issues. Your Prairie Village, KS dentist's office can arrange your emergency treatment if you experience an urgent issue. For example, if you break a tooth, we can bring you in, evaluate the issue, and provide the appropriate treatment. Prompt care can be particularly important after a physical injury. Until your tooth's health is restored, you will have to be careful about putting pressure on it, as you can end up damage it further. You can also face a heightened risk for infection until the matter is addressed.
A Broken Tooth Can Call For Emergency Treatment
A broken tooth can be a painful and alarming problem. Until you undergo treatment, you may have a difficult time biting and chewing. Even if you attempt to simply work around the tooth, you can accidentally put pressure on it that causes pain or does more physical damage. You also face a real threat from infection, and that can lead to difficulties with your oral health that call for root canal therapy! Because we offer emergency dental services, we can address your well-being before you experience complications.
Restoring Your Tooth's Health And Appearance
Restoring a broken tooth can call for different services. When the damage is just superficial, we may be able to provide cosmetic dental work to restore its appearance. We also provide dental crowns when damage affects your ability to bite and chew. In some cases, root canal therapy will take place before a tooth is physically restored. Through root canal therapy, we can remove bacteria and damaged tissues to stop problems from worsening. Once this is done, we can protect your tooth with a crown.
Emergency Care Is For More Than Just Physical Injuries!
Emergency care is also available when your tooth is in pain, but not physically injured. In fact, you should take the onset of a persistent or serious toothache seriously. This discomfort can be a sign that your tooth is actually infected, something we can deal with via root canal therapy. An infection will worsen in time if it is not addressed. The longer you go without care, the more likely you are to experience health complications or lose a tooth!
Schedule Treatment For A Broken Tooth With Dr. Browne!
Dr. Browne is here to help you with your dental troubles, even when those troubles call for care on short notice! Our office is ready to meet with you and address any problem that calls for urgent dental care. If you have any questions, or if you wish to find out more about our services, please call our Prairie Village, KS office at 913-901-8585.