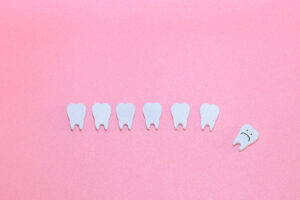 When you start to notice a change in your smile, it is important to speak with a trusted oral health professional as quickly as you can. Pain or discomfort within your mouth could be a sign of an internal tooth infection, which can lead to a seriously painful toothache and even further oral health issues. This infection can spread into the bone tissue of your jaw, and possibly into your bloodstream if you ignore it, so be sure to meet with your dentist.
At our emergency dental clinic here in Prairie Village, KS, we are here to help to weather the tough times for your smile. Whether you have knocked out or broken a tooth, or if you have started to experience pain, take some time to meet with us for an examination. We can help you to find restoration for an infected tooth, including a root canal treatment, which can stop that nagging toothache and prevent reinfection. To learn more, give us a call and set up a time to discuss your dental needs!
A Cracked Or Broken Tooth Becomes At Risk Of Bacterial Infection
Your natural enamel provides a strong surface for your teeth, which helps you to chew and speak every day. This material also serves as a barrier between your mouth and the more vulnerable dentin that makes up the bulk of your tooth. This is why it is so important to meet with your emergency dentist whenever you experience a broken or cracked tooth.
When bacteria move through the dentin into the soft tissue called pulp, it can pose a serious problem for your smile. This can lead to a serious toothache when it reaches the nerve. Talk to your dentist as quickly as possible after you crack or break one of your natural teeth.
Repairing Your Smile With Root Canal Treatment And A Beautiful Dental Crown
If you have started to feel pain or discomfort within your damaged tooth, a root canal treatment can help you to renew your oral health. This process starts with a procedure known as a pulpectomy, which is the removal of the soft tissue within the tooth.
After the pulp has been removed, your dentist will seal the connections shut between the tooth and the jaw, preventing the spread of infection. Since this treatment requires a significant amount of drilling, you will need a dental crown to cap things off.
Schedule Your Appointment With Dr. Browne, DDS In Prairie Village, KS
When you start to notice pain within your smile, do not wait to talk to a trusted oral health provider. For more information or to schedule your appointment, give us a call at our Prairie Village, KS dentist's office at 913-901-8585 today!