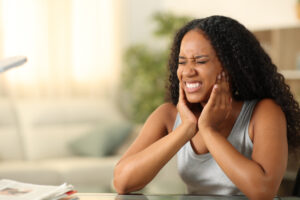 If you have a dental emergency, knowing what to do can help you prevent the situation from becoming worse. This means that having an emergency dentist's number on hand can quickly secure you an appointment to repair your smile and resolve your pain. If you have a physical accident that knocks out one of your teeth, it may be possible to return the missing member to its socket. Rinse the object and place it back in your mouth until you can visit our care. When you get in touch with one of our staff, we will give you detailed instructions on caring for your smile until treatment.
At your Prairie Village, KS, dental office, we know that emergencies can happen when you least expect them. When it comes to dental injuries, we are waiting for your call to help you in your time of need. If you have an injury that you believe to be life-threatening, first call 911 or head to the emergency room of your nearest hospital. They can get your bleeding under control and perform services until it is time to see a dentist. Otherwise, contact our office and we will arrange a visit at your earliest convenience. Paying special care to our instructions can increase the odds of saving a dislodged tooth.
Time Is Of The Essence When Saving Knocked-Out Teeth
Whenever an injury knocks out one of your teeth, the correct response can increase your chances of a successful recovery. Carefully pick up the tooth by its crown, never the roots, and rinse any debris or dirt from the material. Attempt to place the tooth back in its socket and clamp down your bite until you can receive emergency care. If the tooth will not hold in the socket, you may place it in a container of milk or a saltwater bath to preserve it. When you arrive at your appointment, we will tell you if we can save the tooth. Otherwise, we can explore prosthetic options to return your full smile.
Repairing Harm To One Of Your Teeth
When we complete placing your tooth back in place, it may have permanent damage from the event that knocked it out. If this is the case, we can discuss cosmetic repairs such as dental bonding or the placement of a dental crown.
Give Us A Call Right Away When You Have A Dental Emergency
If you would like to learn more about how we restore knocked-out teeth and treat other emergency dental conditions, please contact your Prairie Village, KS dentist's office at 913-901-8585. Our office is located on the southwest corner of 75th and State Line at the Crossroads of Prairie Village, Waldo, Brookside, Mission Hills, Leawood, and Overland Park.