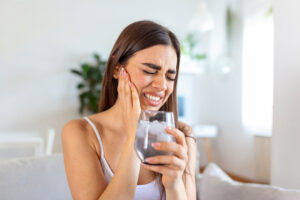 Waking up with a sudden pain in your tooth can put a real wrench in your day's plans. The pain can be debilitating and you don't know when it will subside. If your dental pain will not go away after a day, give your dentist a call right away! We can take an X-ray of your tooth and determine if you have an infection. Constant aching is a common symptom of this condition that without treatment, could risk spreading to other parts of your body. When oral bacteria deposit in the tooth's inner chamber, the body's inflammatory response swells tissues nearby that press against your sensitive nerves. This signals the brain that something is wrong, and that is when you need expert care. We can perform root canal therapy that removes all foreign material and puts you on the path to recovery.
At your Prairie Village, KS, dentist's office we provide emergency care for all manner of tooth injuries. If you chip, knock out a tooth, or have a chronic ache, we are happy to see you outside of your standard checkup appointment. However, if you believe your injury is life-threatening, or have bleeding you cannot get under control, first head to the nearest emergency room. They will give expert care before releasing you to the care of a dentist.
How Infections Form In The Center Of Your Teeth
When a tooth is healthy, its outer enamel layer protects its sensitive inner chamber from the bacteria that live inside your mouth. This means that any injury that compromises the seal of your enamel increases your risk for tooth decay and infection. By attending regular checkups and cleanings, we can inspect any damage to the surface of a tooth and recommend bonding, fillings, or crowns to restore the outer seal.
Caring For Your Aching Tooth
At your emergency dental appointment, we will begin by taking X-rays of your tooth to determine if an infection is present. When necessary, we will perform a root canal procedure to relieve your pain and clear your infection. By applying local anesthetic, a root canal should be no more uncomfortable than a standard filling placement. After clearing all decaying material from the center of your tooth, we must reseal the tooth to prevent future infection. Placing a dental crown restores the appearance and function of your injured tooth.
Let Us Know Whenever You Have A Dental Emergency
For more information on how we can remove infection and help resolve your pain, please contact your Prairie Village, KS, dentist's office at (913) 901-8585. Our office is located on the southwest corner of 75th and State Line at the Crossroads of Prairie Village, Waldo, Brookside, Mission Hills, Leawood, and Overland Park.