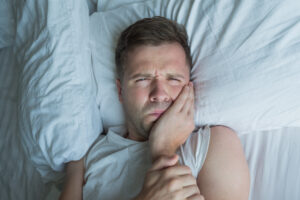 If you experience a consistent ache in your tooth that does not resolve on its own, it may indicate a dangerous infection. Because time is of the essence when responding to a dental emergency, seeking immediate treatment can lead to valuable relief. When physical trauma or tooth decay exposes the inside pulp of your tooth to oral bacteria, your body's inflammatory response sets off the nerves within. Left untreated, this infection can spread from the tooth to your jaw, gums, and other parts of your body risking further harm.
At your Prairie Village, KS, dental practice, we can provide emergency care to treat your tooth infection. This means we remove the source of your pain on short notice when you need our service most. By examining the source of your symptoms, we determine when root canal therapy is appropriate and follow up by planning a restoration to return your tooth's function and appearance.
The Consequences Of Tooth Infection
When severe dental pain indicates an infection of the tooth's pulp, its surface has been compromised. While breaks and chips expose your inner structure, the most common culprit is an untreated case of tooth decay. As a cavity grows in scope, decaying tissue allows bacteria to form an infection within the tooth's center. Your body responds by forming an abscess to prevent the further spread of the infection. This process results in your pain and should be promptly treated for its resolution.
Root Canal Therapy Provides Emergency Relief
By visiting our office for emergency treatment, we can determine if an infection is present. When necessary, we can perform a root canal therapy to access the inner pulp and offer treatment. To ease your discomfort during the procedure, we will numb the affected area before entering the tooth. After removing the bacterial deposit and decaying tissue of your tooth, we apply a temporary seal to prevent future reinfection. When you recover from your therapy, you can schedule a visit to plan the restoration of your problem tooth.
Dental Crowns Return Important Protection
To provide more permanent security against oral bacteria, we can place a dental crown to seal your entire tooth above the gum line. Modern materials allow the crown to take on a tooth's natural shade and shape to sit harmoniously within your smile. Your new prosthetic will provide structural support for your bite in addition to enhancing your appearance.
Call Us Now To Treat Your Tooth Infection Emergency
When pain in your tooth will not go away, do not delay seeking treatment. Emergency relief is available by treating your ache at its source. For additional information on what to do when you have a dental emergency, please contact your Prairie Village, KS, dentist's office at 913-901-8585. Our office is located on the southwest corner of 75th and State Line at the Crossroads of Prairie Village, Waldo, Brookside, Mission Hills, Leawood, and Overland Park.