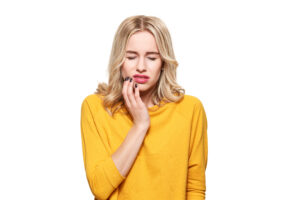 Losing your dental crown means losing necessary protection for a vulnerable tooth. In other words, this can be a serious oral health issue, something that you should not put off treating. At our Prairie Village, KS dentist's office, we can provide prompt care by welcoming you for emergency dental work. By making support available on short notice, we can respond to problems with loose or damaged restorations, dental pain, injuries, and more before there are complications. If you need to replace your crown, we can provide one that is carefully designed to fit over your tooth and provide lasting protection while also offering cosmetic benefits.
Take Prompt Action If You Lose A Dental Crown
Restorative dental work is intended to provide permanent support, which means you will always need your filling or crown in place to protect your tooth after your procedure concludes. Without it, your tooth will be left in a vulnerable state, and you can find it difficult to bite and chew properly. Because your tooth is left exposed, it can become injured or infected, leading to new issues. The good news is that by reaching out to schedule care as soon as possible, you can have work done to address the matter before it worsens.
Our Emergency Services Help You Respond To Serious Issues On Short Notice
Our practice welcomes patients when they need emergency dental work. We do this because we understand that some problems call for a response as soon as possible, and because we want patients to know they can turn to us for help when the need arises. As soon as you let us know what your situation is, we can prepare to see you, and we can offer guidance on managing pain and protecting your smile as best you can before you arrive. Just as we do during any other restorative dental procedures, we will focus on providing treatment that preserves your appearance and also benefits your dental well-being.
What Happens When You Need An Older Crown Replaced?
In the event that your dental crown needs to be replaced, we can provide a new one that will provide both support for your tooth and an appearance that matches your smile. With your new restoration in place, you can confidently bite and chew without discomfort, and you can feel comfortable with the way you look. The new restoration will be carefully designed and placed to offer long-term support without affecting neighboring teeth.
Talk To Your Prairie Village, KS Dentist About Treatment After Losing A Dental Crown
Through prompt care, we can help you deal with a loose or lost dental crown before you experience worsening oral health complications. If you would like to learn more about our emergency services, please call our Prairie Village, KS office at 913-901-8585.