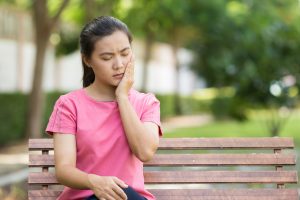 A tooth injury can be upsetting even when there is no visible damage to your enamel. You can be understandably worried if you have pain that persists after physical trauma. If your discomfort does not subside after a short time, it could be a sign that internal damage has occurred, which will worsen and put your tooth at risk if not addressed. Our Prairie Village, KS dentist's office can meet with you to provide the appropriate restorative care. We can even make time to see you on short notice by providing emergency dental services.
Is My Tooth In Trouble?
When your tooth continues to hurt after an injury, you can be understandably worried about its well-being. You should know that this discomfort can be a warning that there is internal damage, and that you need to see your dentist to address it. The longer you wait, the more likely you are to experience complications from your initial injury. Because we make emergency dental visits available to our patients, we can make sure you have care in time, and we can limit the length of time you have to spend with a persistent pain.
Scheduling An Emergency Dental Appointment
At your emergency dental appointment, we will evaluate you to determine what kind of treatment you need. After confirming that you have internal damage, we can proceed with care by performing root canal therapy. Once this is done, we can restore your tooth by capping it with a custom dental crown.
Waiting to deal with internal problems can become a problem for several reasons. One is that you will continue to feel discomfort as long as your tooth remains in poor condition. Another is that an infection that forms can spread, leading to the potential loss of your tooth as well as more health complications.
Will My Treatment Affect The Way I Look?
We provide different types of dental crowns when patients need restorative work done. For a tooth that is visible when you smile or speak, we can make plans to provide restorative care that will improve the way you look while also preserving your bite function. These restorations are strong enough to hold up against biting and chewing friction for many years, which means your care provides a long-term solution to damage.
Talk To Your Prairie Village, KS Dentist If You Need Treatment After An Injury
If you have pain after an injury, we can meet with you on short notice to make sure your oral health needs are addressed, and that you have no complications that put your smile in jeopardy. If you have questions, or if you have an active issue that needs to be addressed, please call our Prairie Village, KS office at 913-901-8585.