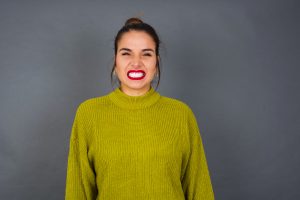 Those who promptly respond to the early warning signs of bruxism, a persistent teeth grinding habit, can avoid potentially serious issues with dental damage. At our Prairie Village, KS dentist's office, we can actually provide protection from nightly grinding and clenching, a source of trouble for many people. Unfortunately, not everyone addresses bruxism in time to prevent permanent harm from occurring. If you start your day with the discovery that your tooth is chipped, cracked, or otherwise damaged because of nightly grinding, we can take care to see you on short notice. At your emergency dental appointment, Dr. Browne can assess the damage to your tooth and recommend the appropriate care to protect it and improve your smile!
An Unresolved Problem With Teeth Grinding Can Lead To Big Smile Problems
The longer it takes you to seek help for an issue with bruxism, the more problems you can experience with dental wear and tear. The mounting pressure a nightly grinding habit causes can cause chips and cracks to form that will call for professional services. When necessary, we can address these issues through cosmetic dental work, or even through restorative dental care when necessary.
We Can See You On Short Notice To Treat Dental Damage
If you chip, crack, loosen, or otherwise hurt a tooth due to unresolved issues with bruxism, we can bring you in on short notice to provide emergency dental work. Emergency services are available to our patients because we want to minimize problems with pain and sensitivity. Timely care also helps you avoid complications that can further trouble your smile and well-being. At your visit, we will evaluate you to see what kind of procedure is needed to fully restore any teeth harmed by your nightly grinding and clenching habits.
Protecting Yourself Against Bruxism
By effectively protecting yourself against bruxism, you can stop worsening problems with dental damage, resolve difficulties with TMJ disorder, and put a stop to persistent pain and sensitivity problems. To keep your smile safe while you are at rest, we can supply you with a custom oral appliance. The appliance, when in place, will stop your teeth from connecting. This treatment approach can also stop you from exerting force that puts a strain on your joints and muscles.
Talk To Your Prairie Village, KS Dentist About Teeth Grinding
If an untreated teeth grinding issue leads to alarming dental damage, know that Dr. Browne is prepared to help! When appropriate, we can even make time to see patients for emergency dental services to address enamel damage. To find out more about how we can take care of you in an emergency, or to discuss routine care, please call our Prairie Village, KS office at 913-901-8585.