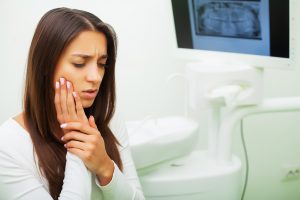 After you start to feel a pain in your tooth, you can hope the issue is just a short-term inconvenience. If that pain persists, you should treat the matter like a potentially serious oral health issue. One thing our Prairie Village, KS dentist's office does to help patients with tooth pain is make emergency appointments available. Because you can see us on short notice, you can receive prompt care and information on the cause of your discomfort. If your trouble with discomfort has not subsided, or if you have severe pain that worries you, we can offer treatment to resolve the matter while preserving your smile. Of course, our dental office is also here to provide routine care that can lower your risk for problems over time.
When Does Tooth Pain Become Too Serious To Ignore?
If your tooth pain continues for more than a day, or if it feels so serious that you have a difficult time ignoring it, you should seek care before the problem grows worse. That pain you feel could be a sign that your tooth is infected. If this is the case, its health can deteriorate further while you deliberate over whether you should arrange care. During your visit, we can evaluate you to see what kind of restorative dental procedure might be right for you.
Visiting Your Dentist For Emergency Dental Treatment
During an emergency dental appointment, we can provide an evaluation to let you know what kind of issue is causing your discomfort. We may have to perform root canal therapy, as this procedure is needed for an infection. In the course of this procedure, Dr. Browne will carefully access your pulp, the central chamber in your tooth where living tissues are housed, then remove bacteria and damaged tissues. After this is done, we can restore your tooth by providing a custom dental crown.
What Can Happen If You Wait Too Long To Receive Treatment?
An infection is not something that should be ignored. If you put off treatment for too long, an infection can spread through your tooth and create more difficulties for your well-being. A delay in care can also leave enough time for your tooth's health to deteriorate to the point where the only treatment option left involves extracting and replacing it.
Talk To Your Prairie Village, KS Dentist About Your Tooth Pain
By visiting Dr. Browne for emergency dental treatment, you can learn about the cause of your dental discomfort and receive care that restores your oral health without changing the way you look. To find out more about how we can take care of you, or to discuss our general services, please call our Prairie Village, KS office at 913-901-8585.