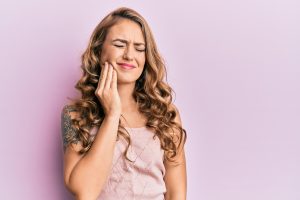 When you start to feel significant pain, or when you have an aching or sensitive tooth that keeps causing you discomfort, it can become clear that you should schedule treatment with your dentist sooner rather than later. At our Prairie Village, KS dental office, we want our patients to reach out to us when they think they need emergency dental treatment. We can address a serious or persistent problem with tooth pain for you, just as we can act quickly to restore a tooth that is physically injured. If your tooth has suffered internal damage, or if it has become infected, we can recommend root canal therapy to return it to good health!
Is Root Canal Treatment Always Part Of Emergency Dental Work?
Your dentist will check your tooth closely to determine what kind of restorative dental treatment is needed. For physical injuries, it may not be necessary to move forward with a root canal – in fact, we may be able to recommend a more conservative cosmetic dental procedure in the place of restorative work. However, if internal damage has occurred, or if a tooth is in pain because of an infection, we will need to provide root canal treatment to remove bacteria and damaged tissues within your tooth. By doing this, we can stop the pain you feel and prevent problems from worsening.
Problems That A Root Canal Can Address
Root canal procedures are used during some cavity treatments, as decay can spread to your pulp and cause an infection to form. An infection can also occur if your tooth is physically injured, leading to troubles with pain and sensitivity. During the treatment, the tooth's inner chamber is carefully revealed so that we can take care of damage and clear away all infected tissues that are present.
We Can Make Sure Your Tooth Is Fully Restored After Treatment
When a root canal is performed, the active threat of an infection or internal injury is addressed, which means it no longer puts your tooth in jeopardy. However, it is necessary for your dentist to place a restoration on the tooth to keep it safe after treatment. We can provide you with a custom dental crown for your tooth. The crown will completely cover it and provide support for your bite as well as protection against another infection. When we restore teeth that can be seen when you smile and speak, we can discuss treatment with a tooth-colored crown.
Talk To Your Prairie Village, KS Dentist To Schedule Emergency Care
Dr. Browne is prepared to help patients when they need treatment as soon as possible. If you have questions about our emergency dental services, or if you want to learn about any other services that we provide, please call our Prairie Village, KS dental office at 913-901-8585.