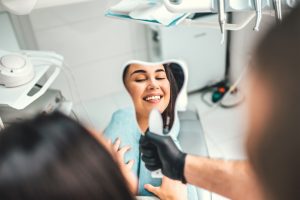 Losing a dental filling or dental crown means losing necessary protection for a tooth. Until this problem is addressed, your bite function can be compromised, and you can be vulnerable to damage or an infection. Fortunately, you can set up an appointment to have this problem addressed on short notice, as our Prairie Village, KS dentist's office is prepared to see you for emergency dental services. By offering emergency dental work to patients who need treatment with little advance notice, we can limit the amount of discomfort you feel and limit the risk to your oral health.
A Lost Restoration Is A Serious Issue For Your Tooth
You will always need your dental crown or filling after you undergo restorative work for a cavity or other issue. While our teeth have an impressive degree of protection from their enamel, they are not able to recover when damage from a cavity or significant injury occurs. If your restoration breaks, starts to loosen, or completely falls out of place, the tooth that was protected becomes vulnerable. Waiting to have it worked on means leaving it exposed to potential damage, as well as a possible infection from bacteria.
Replacing A Lost Or Broken Restoration
After you make plans to see your dentist about a lost or broken restoration, you can have your tooth checked for any new damage or infection issues. Sometimes, damage from a lost or broken filling can lead to the loss of more enamel, and that can mean you need a dental crown instead of a new filling. In addition to tending to the tooth, we will make arrangements to support it with a new custom restoration.
A Modern Restoration Can Be Good For Your Appearance
When you have an older restoration made with metal replaced, you can actually make an improvement to your smile. Our practice provides restorations that are made from tooth-colored materials that can improve the look of a tooth while also protecting it. A lifelike filling or crown can still provide protection and bite support, but it can also make you more confident in the way you look!
Talk To Your Prairie Village, KS Dentist About Replacing A Lost Filling Or Crown
Dr. Browne understands that problems can happen with little to no warning, and that patients sometimes need to seek care as soon as possible. Our practice welcomes patients in and around the Prairie Village, KS area who require care on short notice. This means we can respond to issues like lost restorations, tooth injuries, toothaches, and even lost teeth with little advance notice. If you have questions about our emergency services, or if you hope to learn more about the routine care that we provide, please call our Prairie Village, KS office at 913-901-8585.