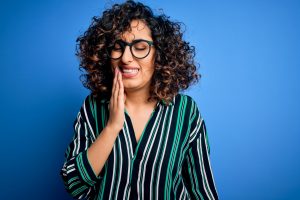 While teeth are kept safe from harm by their outer layering of enamel, injuries can and do occur. If your tooth cracks, you need to be concerned about a possible infection as well as for the potential for more physical damage to occur. By waiting to have the problem treated, you make your risk for complications higher. Fortunately, you can see to it that the matter is addressed as soon as possible. Our Prairie Village, KS dentist is prepared to meet with you for an emergency dental procedure. At your appointment, we can see to it that your tooth is fully restored, and that any issues with its health are resolved!
Ignoring Problems With A Cracked Tooth Can Lead To Complications
By choosing to ignore an injury, or by deciding it is not as serious as it initially appeared, you make yourself vulnerable to oral health complications! A crack will expose your tooth to an infection, allowing bacteria to enter and begin spreading through your pulp and the tooth's roots. You also need to be careful because your tooth could be more vulnerable to physical damage than you realize. A seemingly small crack can worsen when you continue to put pressure on a tooth, and that can lead to the loss of more of your tooth structure.
Arranging The Restoration Of Your Tooth
At an emergency appointment, Dr. Browne will take you in to evaluate your tooth and see how much damage has occurred. That review can determine if the tooth requires restorative dental work, or if a more conservative cosmetic dental treatment can be performed. Our goal is to provide the most conservative approach to treatment possible while still ensuring you will have no lingering oral health issues. If there are already signs of infection, the tooth will undergo root canal therapy.
How Will You Feel About Your Smile After Treatment?
An injury that is hard to hide when you speak and smile can be especially upsetting. Fortunately, you can count on the restoration you receive to imitate your healthy enamel and restore the way you look! Cosmetic treatments like tooth bonding and the placement or porcelain veneers can give you back your smile. If a dental crown is needed, we can provide one that is made from material that imitates your enamel, so it does not stand out!
Talk To Your Prairie Village, KS Dentist About Treating Your Cracked Tooth
Dr. Browne wants patients to take dental injuries seriously. If you crack your tooth, let us know so that we can evaluate it and determine how we can restore your oral health! In addition to taking on emergency issues, we offer a variety of preventive, restorative, and cosmetic services. If you would like to learn more, call our Prairie Village, KS office at 913-901-8585.