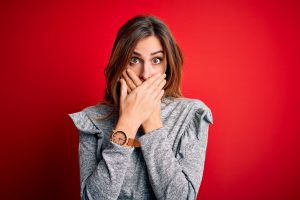 Without a dental crown to cover it, a tooth that has undergone restorative dental work is vulnerable to new problems. You can also find it hard to bite and chew in a way that feels natural if your restoration has been lost. Fortunately, this is not a problem that you have to endure for an extended length of time, as our Prairie Village, KS dentist's office does offer emergency dental appointments for problems like this one. We can take care of your tooth by replacing the broken crown with a new one after checking on the tooth's health. We do provide restorations that are made with lifelike materials like porcelain and zirconia, so we can make sure your smile looks natural at the end of your procedure!
A Lost Or Broken Crown Can Create Serious Difficulties For You
If you lose a crown, or if the crown you have is cracked or otherwise broken, you can face frustrating problems that impact your smile and dental function. The glaring effect of having a lost or broken crown can make you self-conscious, and you can find that it is difficult to bite and chew without your restoration. We understand that this is an issue that can seriously interfere with your daily life, which is why we do offer services on short notice. When you arrive for urgent care, we can take care of the tooth and plan to protect it with a new crown!
We Are Ready To Bring Patients In For Care On Short Notice
A lost dental crown or dental filling can call for care on short notice. If this problem ends up affecting you, we can bring you in to have the matter dealt with. When you call to explain the matter, we can offer guidance on keeping the tooth safe so that your discomfort is minimized.
Other Circumstances That Call For Urgent Care
While problems with restorations are serious, they are not the only matters that qualify for emergency dental care! We are prepared to bring in patients who experience dental injuries, significant pain or sensitivity, and problems with teeth that are loose or knocked out. You can be happy to know that for patients needing urgent care, we do take the time to work out plans to fully address a problem to restore your bite function, oral health, and appearance!
Our Prairie Village, KS Dentist's Office Can Replace Your Broken Crown
If you find yourself short a crown because yours is broken or lost, Dr. Browne is ready to help you! We can bring you in for an emergency appointment to deal with the matter so that it does not cause any further issues for you. To learn more, call our Prairie Village, KS office at 913-901-8585.