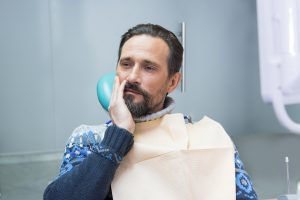 There are several problems that can call for emergency dental work. A patient with a severe toothache, or one who is struggling and failing to dislodge something between their teeth causing them pain, can reach out to our Prairie Village, KS dentist's office to arrange care. We are also here to help when a tooth is chipped or cracked. With that said, few dental problems can feel quite as urgent as those that result in tooth loss! In the event that your tooth is completely knocked out, or even if it is knocked loose and will not remain secure, you can schedule care on short notice to have the problem evaluated. Once your dentist can see you, they can determine if a tooth can still be saved, or it will be necessary to provide a dental prosthetic to replace it.
Act Quickly If Your Tooth Has Been Knocked Out
One thing to remember is that you will need to act quickly if your tooth is knocked out. If you put off treatment, you can ultimately lose the tooth because it is no longer possible to secure it in its original position. Because our practice is ready to provide restorative dental work on short notice, we can have you in for care as soon as possible to see how we can restore your smile.
Tips To Protect Your Tooth While Carrying It
The way you carry your tooth to your appointment can matter more than you realize. You can try to put it back in place, but if you are not able to return it to its socket without difficulty or pain, you will have to find another way to transport it. Make sure that when you are handling it, you do not touch the roots – only touch the crown of the tooth to avoid problems. Leave any organic matter on the tooth, and take care to gently clean it if it picked up dirt when it was knocked out. Using milk to carry it can help, as this can protect it from drying out.
What Will Happen If A Tooth Cannot Be Saved?
So what will your dentist be able to do for you if you cannot recover the tooth, or if it cannot be put back in position? In these circumstances, we can review the benefits of prosthetic dental work. We can recommend placing a dental bridge to close the gap your lost tooth will leave in your smile. We can also talk about the benefits of providing a dental implant-held restoration. Both of these solutions can restore your bite function while also preserving your smile's appearance.
Your Prairie Village, KS Dentist's Office Is Ready To Help You If You Lose A Tooth
Our Prairie Village, KS dentist's office is ready to help you if you need care after losing a tooth. In order to find out more, please call our Prairie Village, KS office at 913-901-8585.