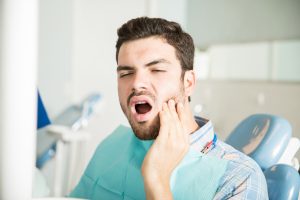 Some problems with your oral health can be hard to notice at first, but they can worsen as time passes. Other problems, like physical trauma, become an urgent concern as soon as they occur! At our Prairie Village, KS dentist's office, we want our patients to know that we have the means to care for them on short notice during a dental emergency. This means that we can be there for you if your tooth becomes chipped, cracked, or even knocked out! Through the right restorative dental treatment, we can make sure that your smile remains healthy and attractive. We can also help if a problem that has gone unnoticed starts to cause you considerable discomfort.
Some Problems Require Treatment Without Delay
If your tooth is cracked after you bite down on something hard, or if you are injured while playing sports, patiently setting up an appointment may not feel like an option. Situations like these call for prompt treatment. We understand this, which is why we welcome patients who have to set up emergency appointments. When you arrive, we can see what shape the tooth is in, determine the right treatment, and ensure that it is properly cared for.
Scheduling Dental Work To Restore An Injured Tooth
Before you arrive, take care to protect the tooth to the best of your ability. You can keep a tooth safe by minimizing pressure, and you can deal with swelling or pain through the use of an ice pack or cold compress. If the injury has resulted in the loss of the tooth, carry it in a small container of milk to keep it from drying out before you arrive. Once you are in the office, we can take a close look at the matter and see what kind of care might be necessary. If it is needed, work to save a tooth can include root canal therapy. After treatment, we can make plans to restore your tooth with a dental crown that has been carefully made to offer the right size and support to provide lasting value.
Sometimes, even emergency care is not enough to save a lost tooth. In a situation like this, we can make sure that the tooth is safely extracted. After this is done, we can review your options for prosthetic dental work.
Booking An Appointment To Discuss Severe Tooth Pain
Physical trauma is not the only issue that can require restorative dental work on short notice. If severe tooth pain affects you, we can bring you in for emergency care. It is important that pain is not ignored. What you are experiencing could be an infection, which can lead to more health issues and the loss of the tooth if care is not administered in time.
You Can Arrange Urgent Care At Our Prairie Village, KS Dentist's Office
Dr. Browne is prepared to help patients who experience oral health issues, even when those issues might call for treatment on short notice. To find out more, please call our Prairie Village, KS office at 913-901-8585.