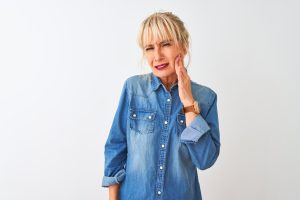 Because our Prairie Village, KS dentist's office provides dental work on short notice, people in our community who need emergency treatment can count on care when they require it. If you have a loved one struggling with dental pain, or suffering from the effects of a dental injury, you can help them by arranging their visit, and by driving them to the appointment. If you are assisting a friend or loved one who has had their tooth completely dislodged, safe handling can make its successful restoration more likely. You can also provide assistance to a close friend or loved one by providing ice or a cold compress, and by offering aspirin to help with pain.
Our Practice Can Help People Who Need Urgent Dental Treatment
Just as you can be there to help a loved one when they are in pain or in need of urgent attention, we can be there for our patients during dental emergencies. We recognize that some problems require prompt treatment, including same-day care. After contacting us to explain what has happened, we can set up a visit, and provide guidance to help the affected person feel as calm and comfortable as possible until they arrive for treatment.
Reducing Discomfort Before An Appointment
If bleeding is an issue after an injury, clean cloth or gauze can help. Be careful when trying to control the flow of blood, as too much pressure on a loose or broken tooth can create more problems. To help ease a patient's discomfort, you can offer over the counter pain medication. Ice packs can also help. In addition to numbing discomfort, ice can help to control any swelling that might be occurring,
Tips For Traveling With A Dislodged Tooth
It might be uncomfortable handling a dislodged tooth, but it may be possible for your dentist to put it back in place. If you arrive in time, and you have handled it carefully, it could be secured, though a root canal procedure and dental crown can be required to keep it healthy. One thing to be careful about is the way you pick it up – you should only handle the tooth by its crown, not its roots. To keep it from becoming too dry, you can use a small container of milk to transport it. If it is not too uncomfortable, and if it can be returned to its proper place safely, you may be able to return it to its socket until the appointment.
Our Prairie Village, KS Dentist's Office Offers Emergency Dental Services
Dr. Browne understands that dental problems sometimes call for urgent care. With that in mind, our practice is committed to making emergency services available when patients need treatment on short notice. To find out more about our regular and emergency services, call our Prairie Village, KS dentist's office at 913-901-8585.