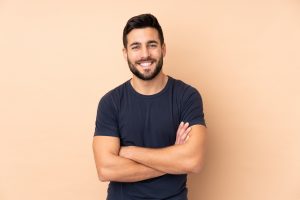 If a situation calls for emergency dental work, it can leave you with conspicuous injuries that make you unhappy with the appearance of your smile. When your Prairie Village, KS dentist brings you in for care, will you be able to count on cosmetic improvements as well as oral health care? In order to deal with dental injuries that leave teeth chipped, cracked, or otherwise damaged, we can recommend appropriate restorations that provide cosmetic as well as functional improvements. If visible damage mars your smile after an injury, you can be glad to see that a porcelain or zirconia dental crown protects it while also giving you back your confidence in your appearance!
The Cosmetic Impact Of A Dental Injury
Even if an injury is not serious enough to threaten the health of your tooth, it can be an issue for the way you look. A small chip or crack can draw attention and make you self-conscious, and it can also change the symmetry of your smile. These issues, in addition to the way trauma can affect a tooth's health, can make prompt care a priority for patients. While your dentist's first interest is in restoring your oral health, you can discuss undergoing treatment that deals with cosmetic concerns as well.
Our Practice Can Provide A Lifelike Restoration For A Damaged Tooth
What steps are involved in restoring a tooth with a dental crown? Like with treatment for a cavity, treatment for an injured tooth will call for a permanent restoration custom-made to protect your tooth. For teeth that are easier to see when you smile, the right restoration can do more than just keep you safe against infection and improve your ability to bite and chew. With porcelain and zironcia, it is possible to restore a tooth's appearance. These materials can be tinted to match the texture and color of surrounding teeth, so you can smile with confidence after work is performed!
Replacing A Lost Tooth With A Secure Prosthetic Appliance
Some injuries can be too serious to make saving the tooth possible. In these situations, you can talk with your dentist about having a lifelike prosthetic appliance placed. In addition to helping you regain your smile, the right prosthetic can help you bite and chew without having to make changes in your bite function. Dental implants can provide permanent support for a replacement tooth. You can also have a dental bridge secured – this approach can be taken without requiring oral surgery.
Our Practice Can Provide Emergency Dental Work For Patients In And Around Prairie Village, KS
Your Prairie Village, KS dentist's office is prepared to help patients when they are concerned about the cosmetic and health impact of a dental injury! To learn more about what Dr. Browne can do for you on short notice, call our Prairie Village, KS dentist's office at 913-901-8585.