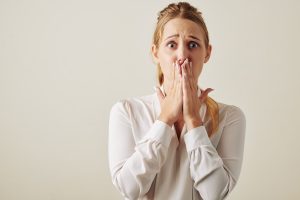 Should you be concerned about the condition of your dental crown? You should feel confident that you can bite and chew while putting pressure on it, and that it is still firmly in position. If there is a problem with the crown, it can expose a vulnerable tooth that may suffer an infection or physical damage. Our Prairie Village, KS dentist's office is prepared to help you deal with a dental crown or dental filling that breaks, loosens, or becomes lost. We can provide emergency work to address damage that might have occurred to the tooth, and to make sure it receives its new dental crown to prevent further problems.
A Problem With Your Crown Can Expose A Vulnerable Tooth To Harm
If a dental crown has to be placed on your tooth, you should know that the tooth is not going to return to full health over time. Restorations are permanently placed in order to restore a person's dental function and protect them from further oral health troubles. Because our teeth are not able to naturally recover from problems, they need to stay protected, meaning a lost or broken crown is not a minor concern. Waiting to deal with the problem can lead to new issues.
Addressing A Problem With Your Restoration
A broken or loosened restoration can be replaced with a new dental crown. We provide crowns made from different materials, including substances like porcelain and zirconia that can fit in with your smile. Before placing the restoration, we can check on the condition of the tooth. If there is a problem with an injury or infection, we can perform the necessary work to prevent its health from worsening.
Taking Care Of Your Tooth Before Your Appointment
Take care not to cause more damage to the crown before your appointment! It is important to avoid putting bite pressure on it, as you could hurt your tooth. If the crown is completely lost, be careful about biting or chewing with the exposed tooth. When you call to set up your appointment, we can talk to you about how to best protect your tooth and the restoration.
Our Prairie Village, KS Dentist Can Help You With Your Lost Or Broken Crown
At our Prairie Village, KS dentist's office, Dr. Browne is ready to help patients when they have problems that call for urgent care. If you break or lose a dental crown, we can bring you in for prompt treatment so that no harm comes to your exposed tooth. This is just one of many situations we can address during an emergency dental visit. If you have questions about emergency services, or about our general treatment options, please call our Prairie Village dental office at 913-901-8585.